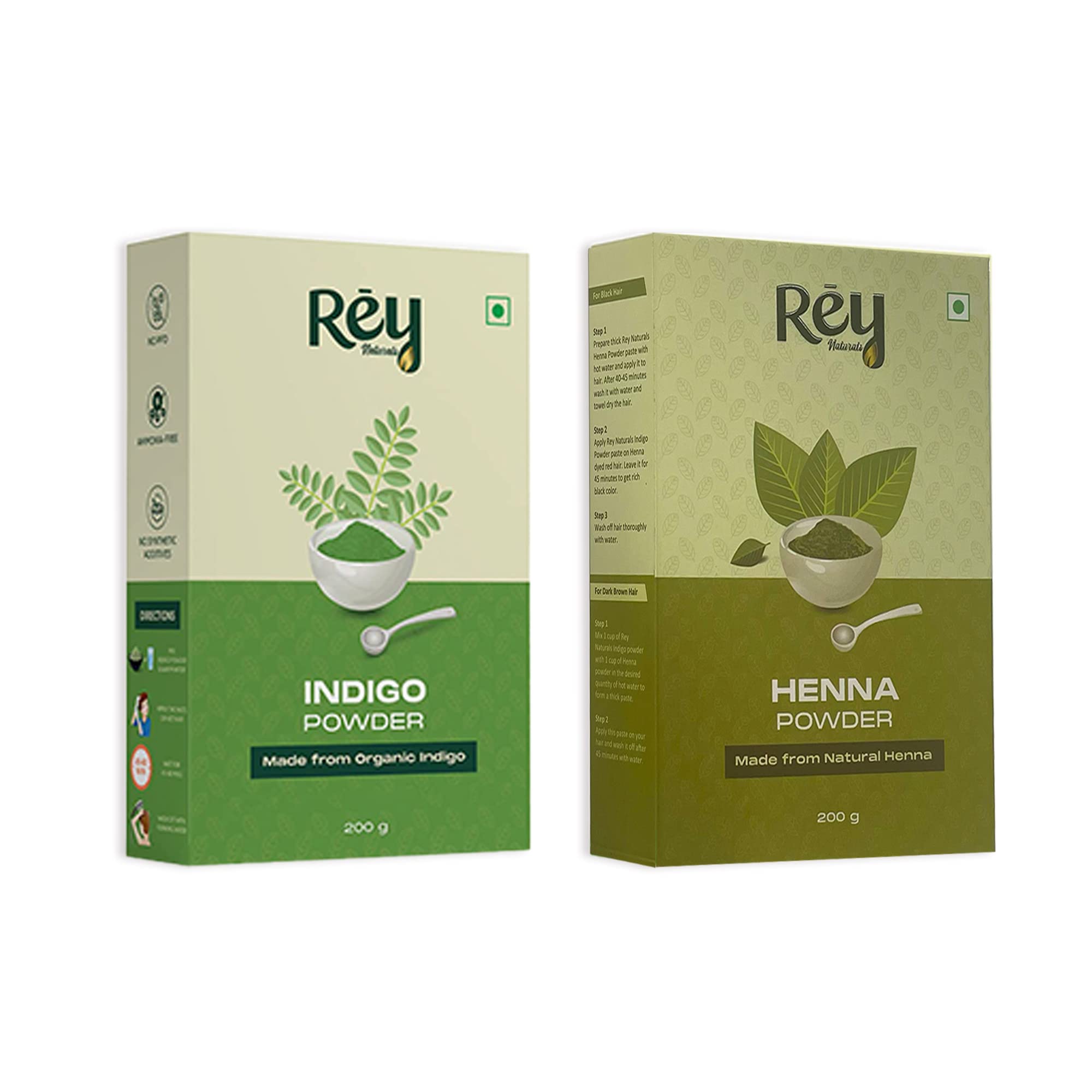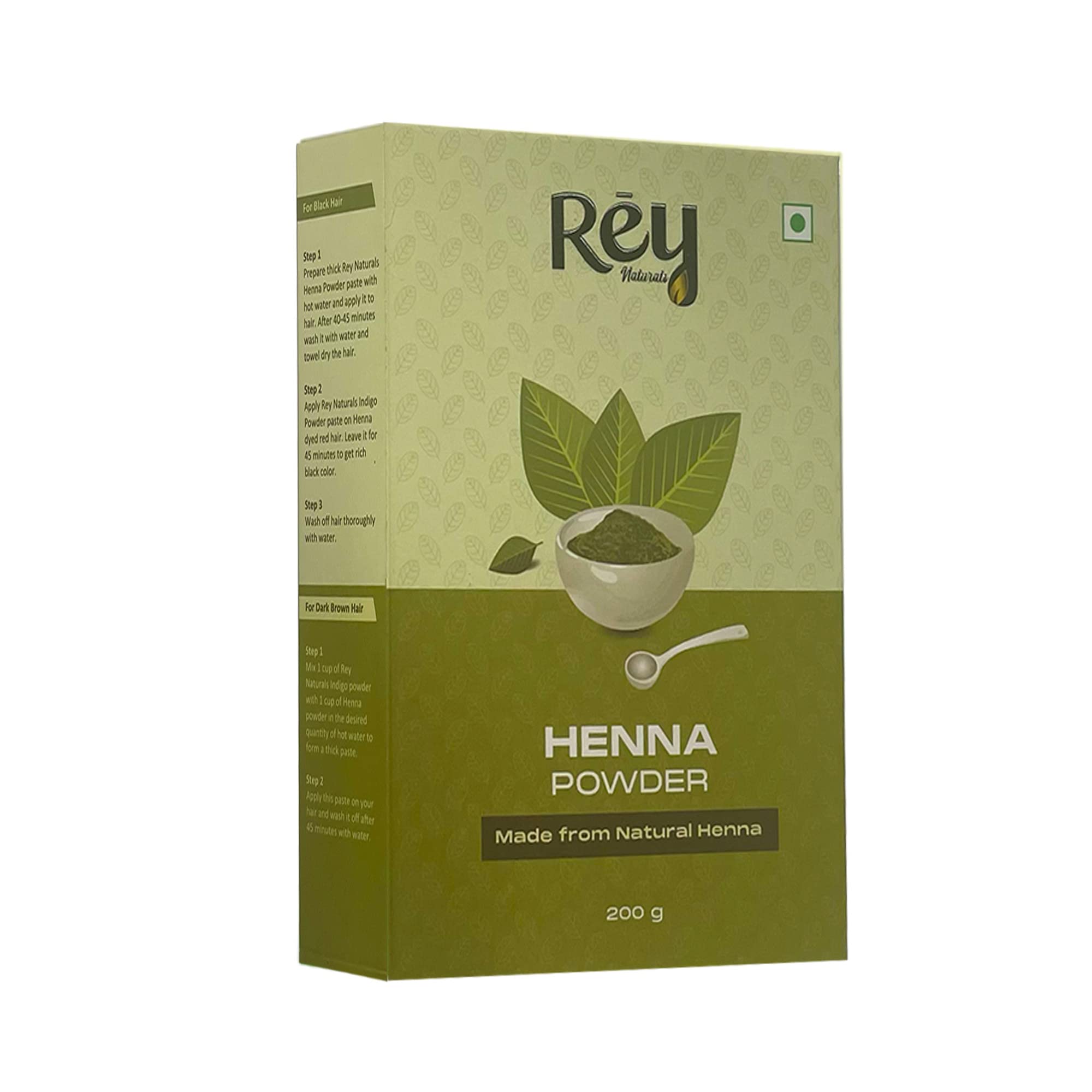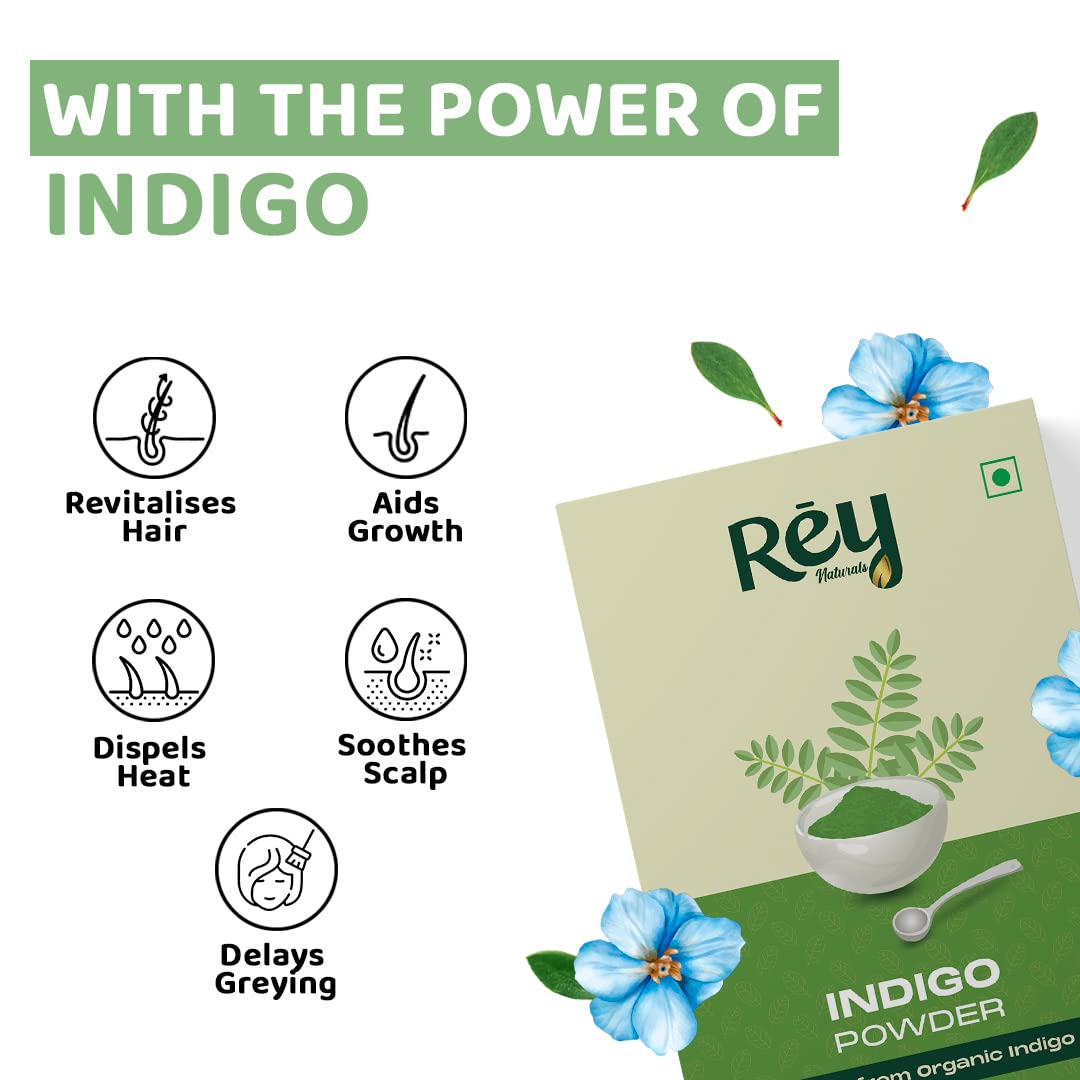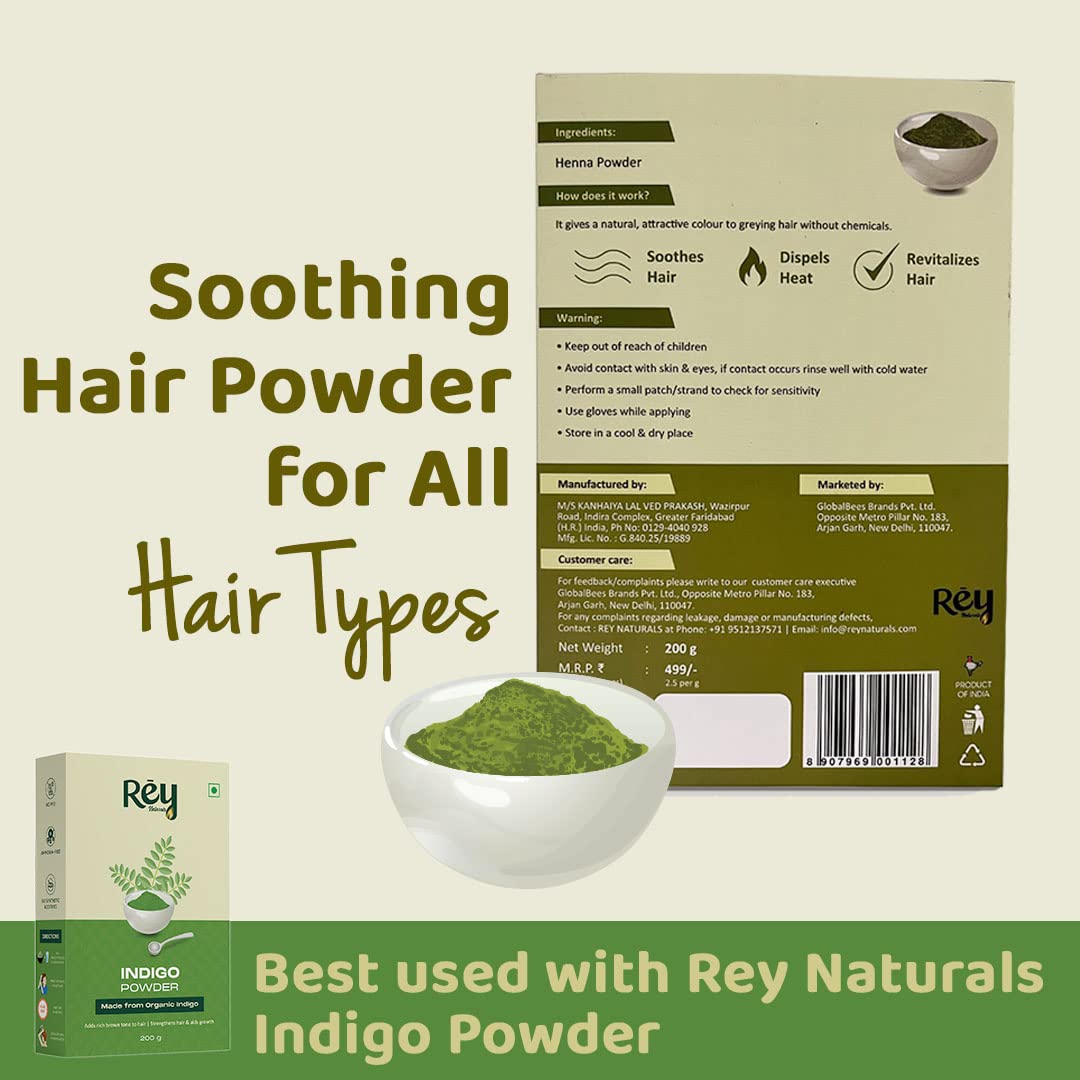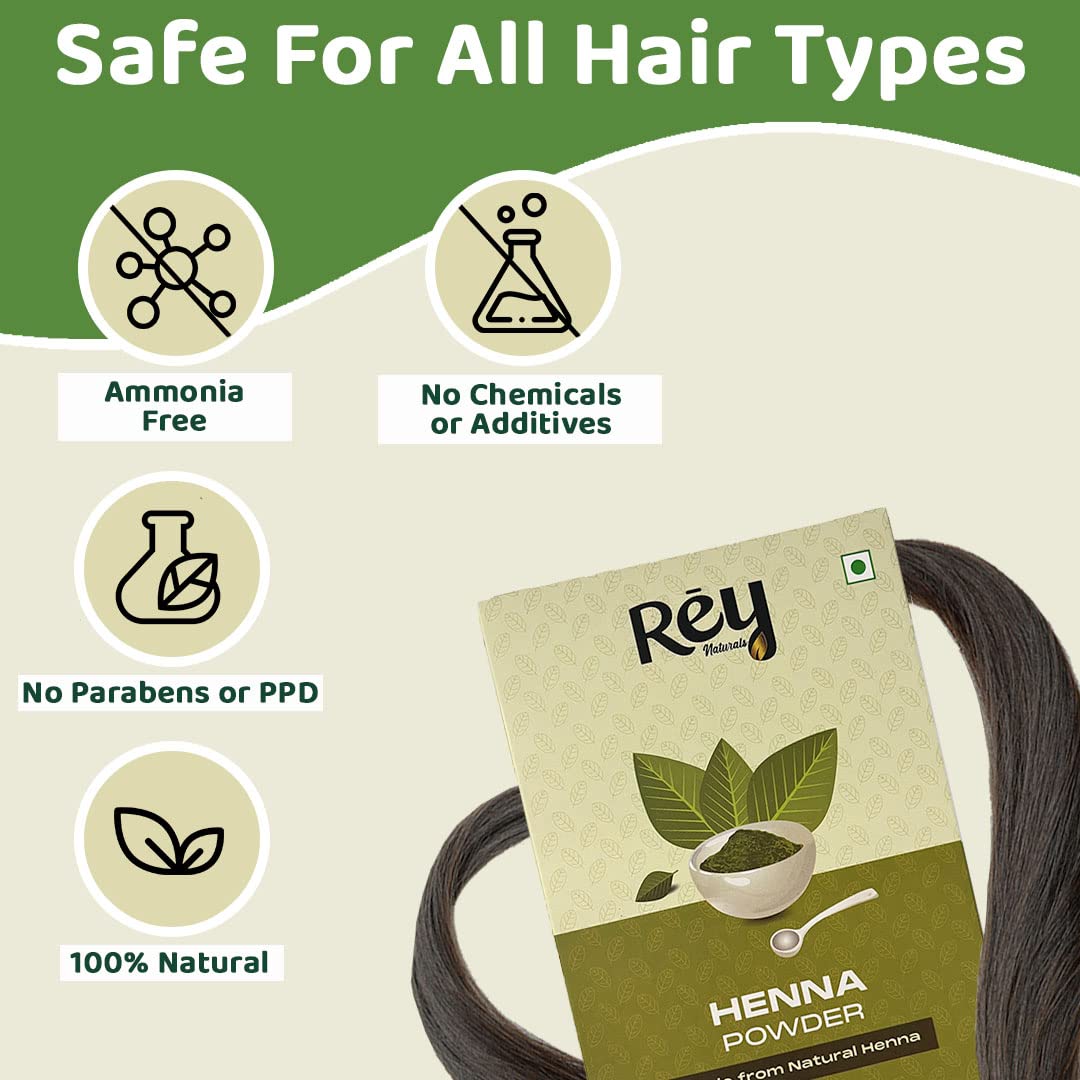 Indigo & Henna Powder for Hair
Regular price

₹ 998/-

Sale price

₹ 429/-

Unit price

per
CLICK HERE FOR COD
About the product :
100% NATURAL & ORGANIC: Rey Naturals Indigo Powder for Hair is sourced from 100% natural and organic Indigo, ensuring only the safest and the best for your hair care routine.
NATURAL MEHENDI : The Rey Naturals Henna powder for hair colour is a 100% natural mehendi powder that is free of ammonia & other harmful chemicals.
FREE FROM CHEMICALS: This hair powder for men and women is free from chemicals, ammonia and does not contain any synthetic additives, parabens and PPD.
ADDS RICH BROWN TONE: Known as the oldest natural colouring agent, Indigo is a powerful remedy for delaying premature greying and adds a lustrous brown tone to your hair. It can also be mixed with Henna to balance the shade as preferred.
CHEMICAL FREE HAIR NOURISHMENT: This chemical & ammonia free henna is 100% devoid of PPD, chemicals, synthetic additives, or paraben.
Indigo Powder for Hair | 200g
Nice Product
I am a great believer in trying new things. This is why I decided to give Indigo Powder a try. I had never used a product like this before, so I wasn't sure what to expect. This powder does exactly what it says it does- it turns your grey hair back to its natural shades of black. I felt like a rock star when I used this on my hair and I got so many compliments. I was so impressed with this product that I decided to buy it in bulk so that I can continue to always have it on hand.
Great Product!
I have been looking for a product to change the colour of my hair for a while now, but I wasn't sure which product to choose. I finally found my answer in Indigo Powder. I love this powder because it is easy to use and helps me achieve the colour, I want in just a few minutes. I like that the powder is natural, so I don't have to worry about any harmful chemicals.
Good
I have been using Indigo Powder for years and it has worked wonders for my hair. I have been able to go longer between salon visits and have found that my hair is healthier and shinier than ever before. This is a great product to maintain healthy hair and it is also one of the safest and most natural haircare products available.
Nice
I've tried several shades of henna to try to cover my greying hair, but this is by far my favourite. I love that it does not require a chemical hair dye, which is great for my sensitive scalp. It also gives a natural, healthy shine to my natural hair colour. I also love that it can be mixed with henna to create a variety of shades. I would recommend this product to anyone looking for a natural way to cover greys.
Product Description :
Rey Naturals aims to provide effective solutions for all types of hair problems with its wide range of products. The Rey Naturals Henna and Indigo Powder for Hair is a 100% natural, chemical free mehendi powder for all hair types. It can help enable a beautiful & healthy texture to your hair and nourishes both the hair and scalp from root to tip. The henna and indigo powder is not only more natural, but also soothing for scalp and hair. These powders helps fight split ends, deeply conditions hair, naturally manages hair health and helps prevent other hair and scalp issues. Use this for 100% natural nourishment!
---
Product Description
---
Detailed Specifications:
| | |
| --- | --- |
| Package Dimensions : | 21 x 11.000000000000002 x 11.000000000000002 cm; 399.9979100177545 Grams |
| Size : | 200 g (Pack of 2) |
| Manufacturer : | M/S. Kanhaiya lal ved Prakash; |
| Marketed by : | Merhaki Foods & Nutrition Pvt. Ltd. |
| Colour : | Green |
| Weight : | 400Grams |
| Brand : | Rey Naturals |
| Model Number : | 3000000067709 |
| Item Part Number : | 3000000067709 |
| Item Length : | 18 cm |
| Item Height : | 18 cm |
| Hair Type : | Dry |
| Batteries Required : | false |
| Country Of Origin : | India |