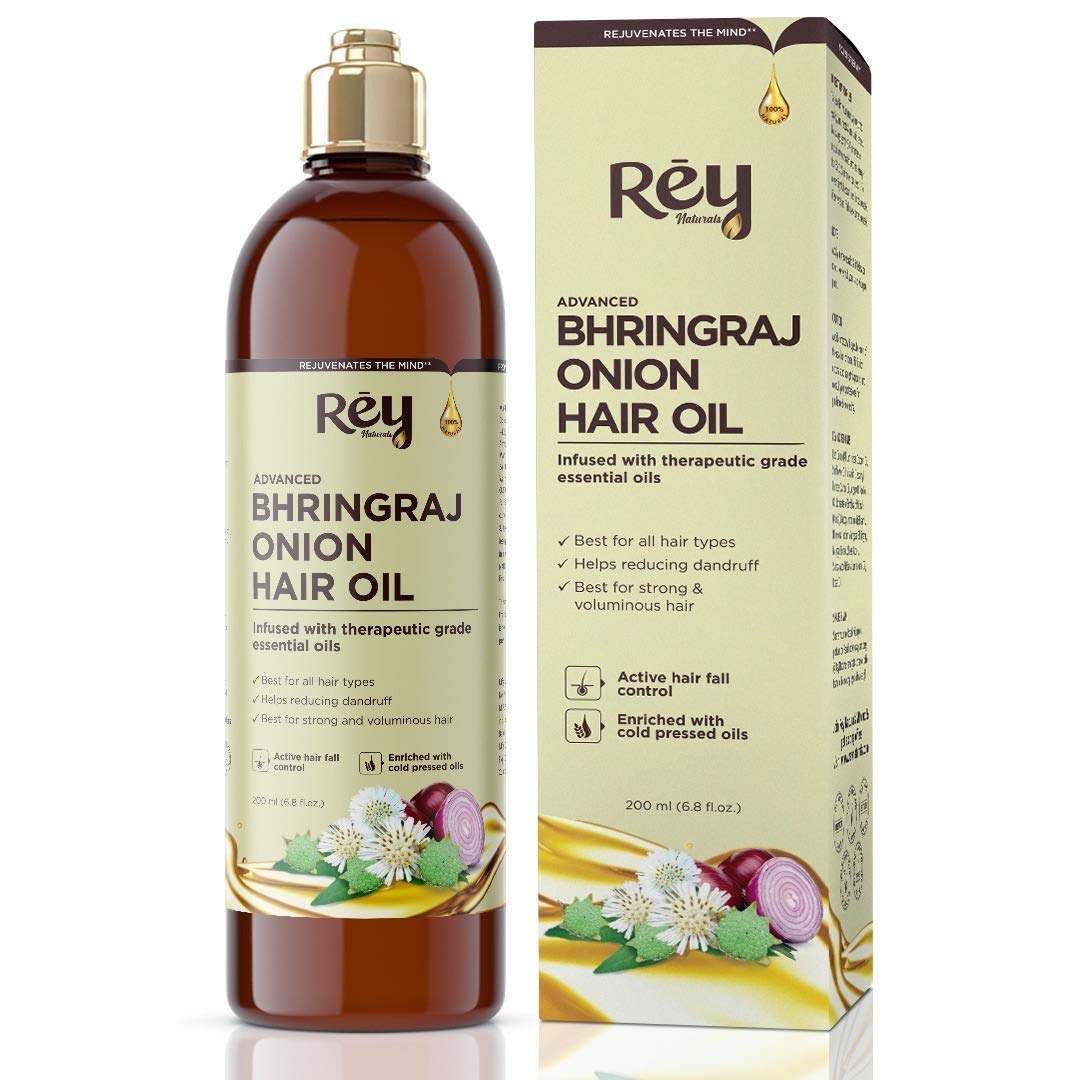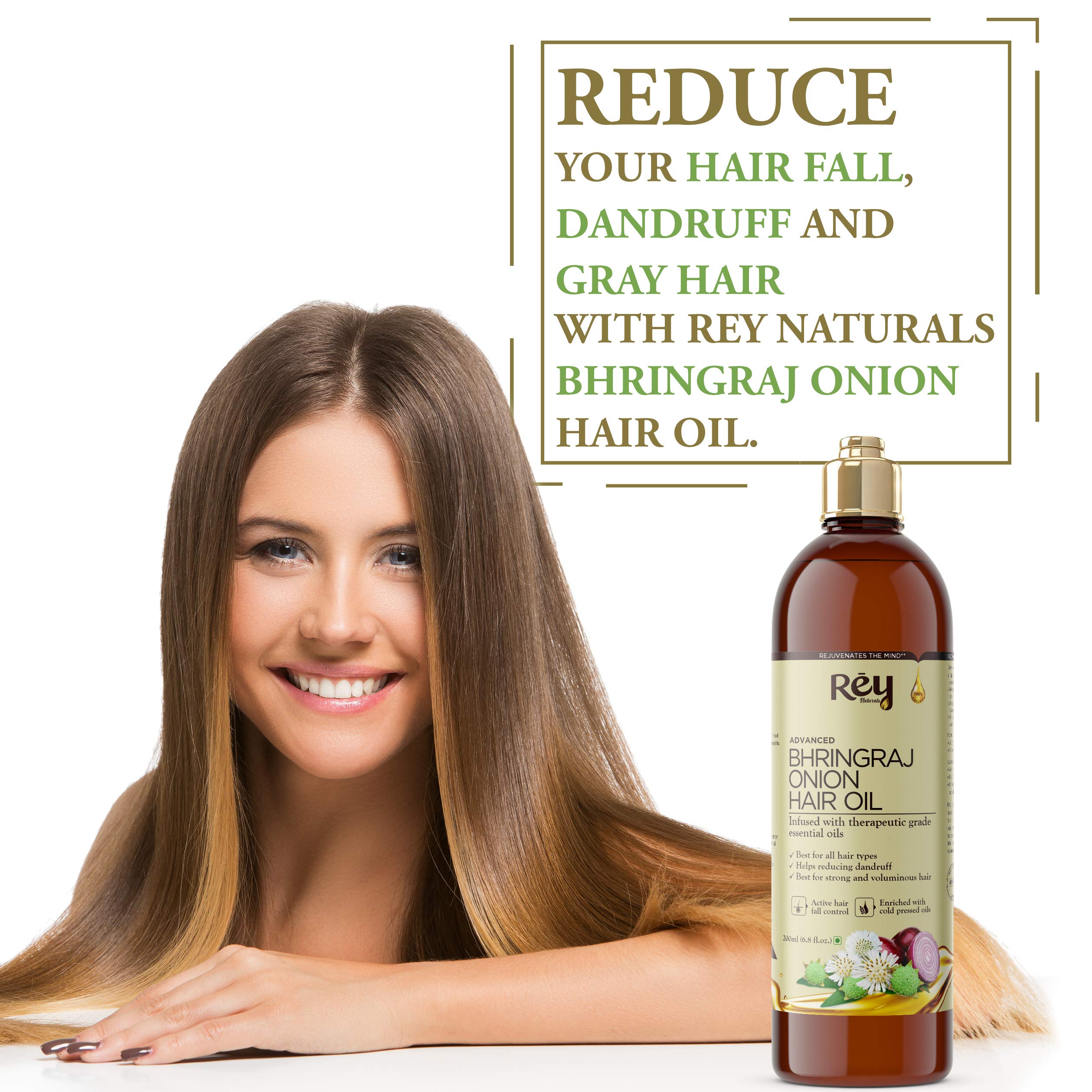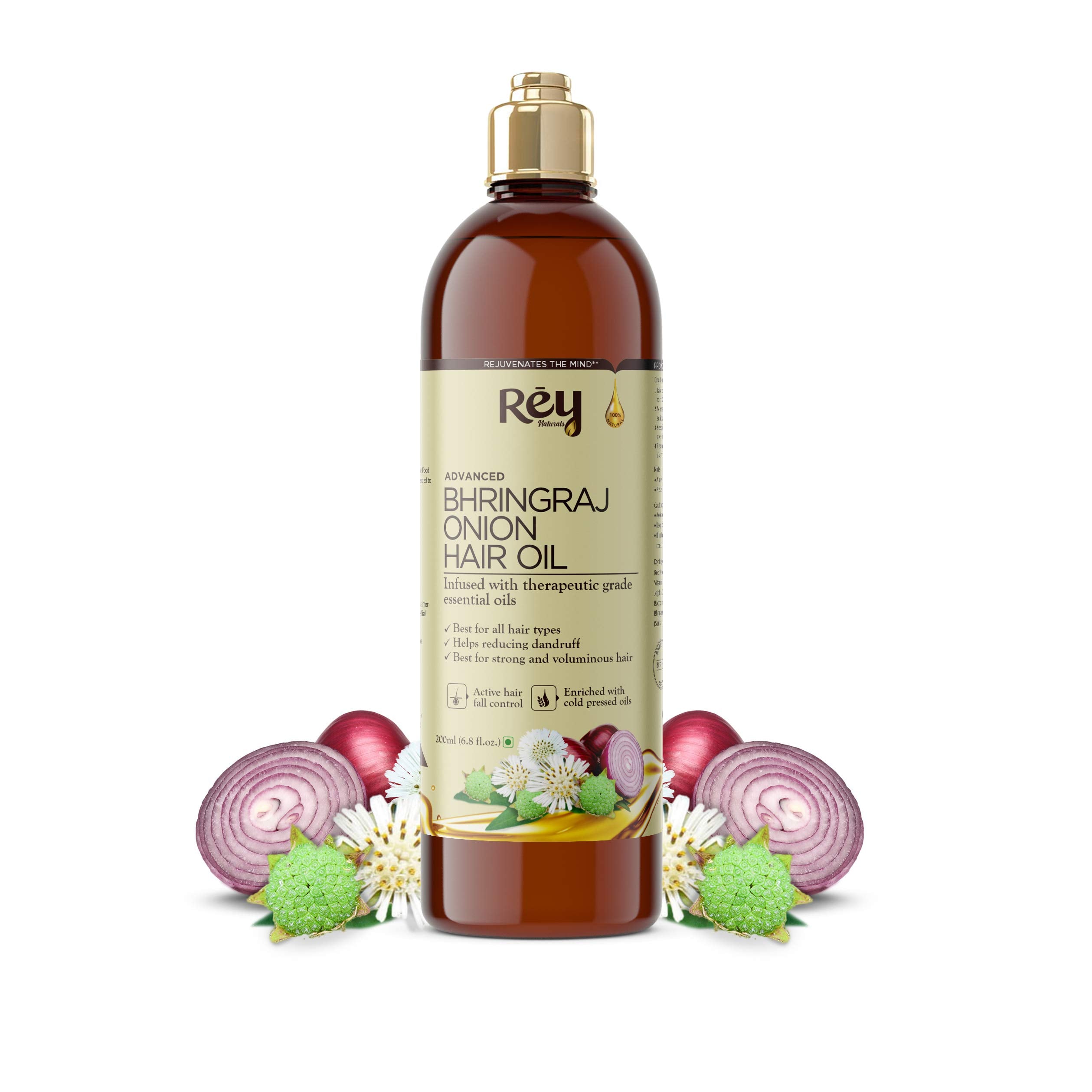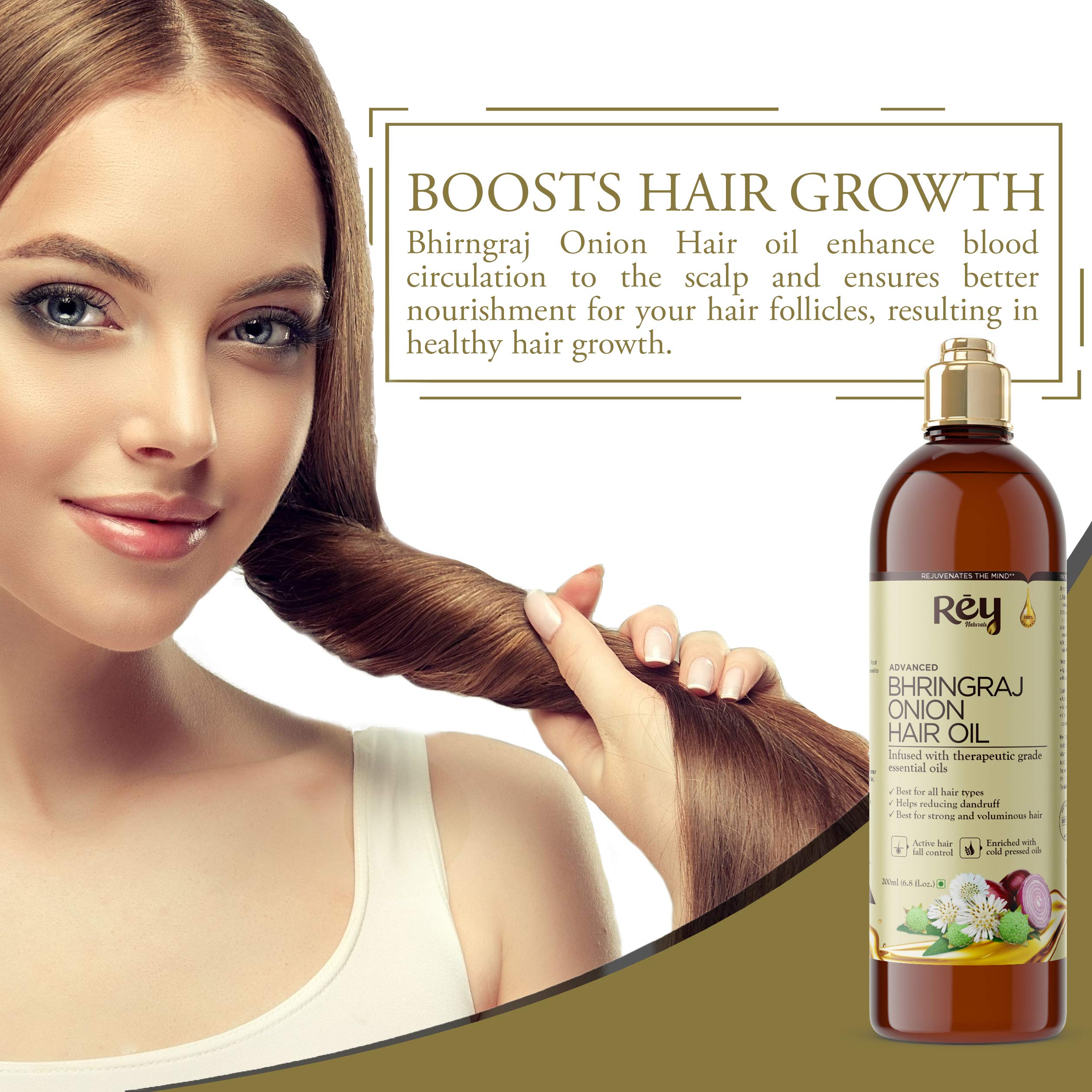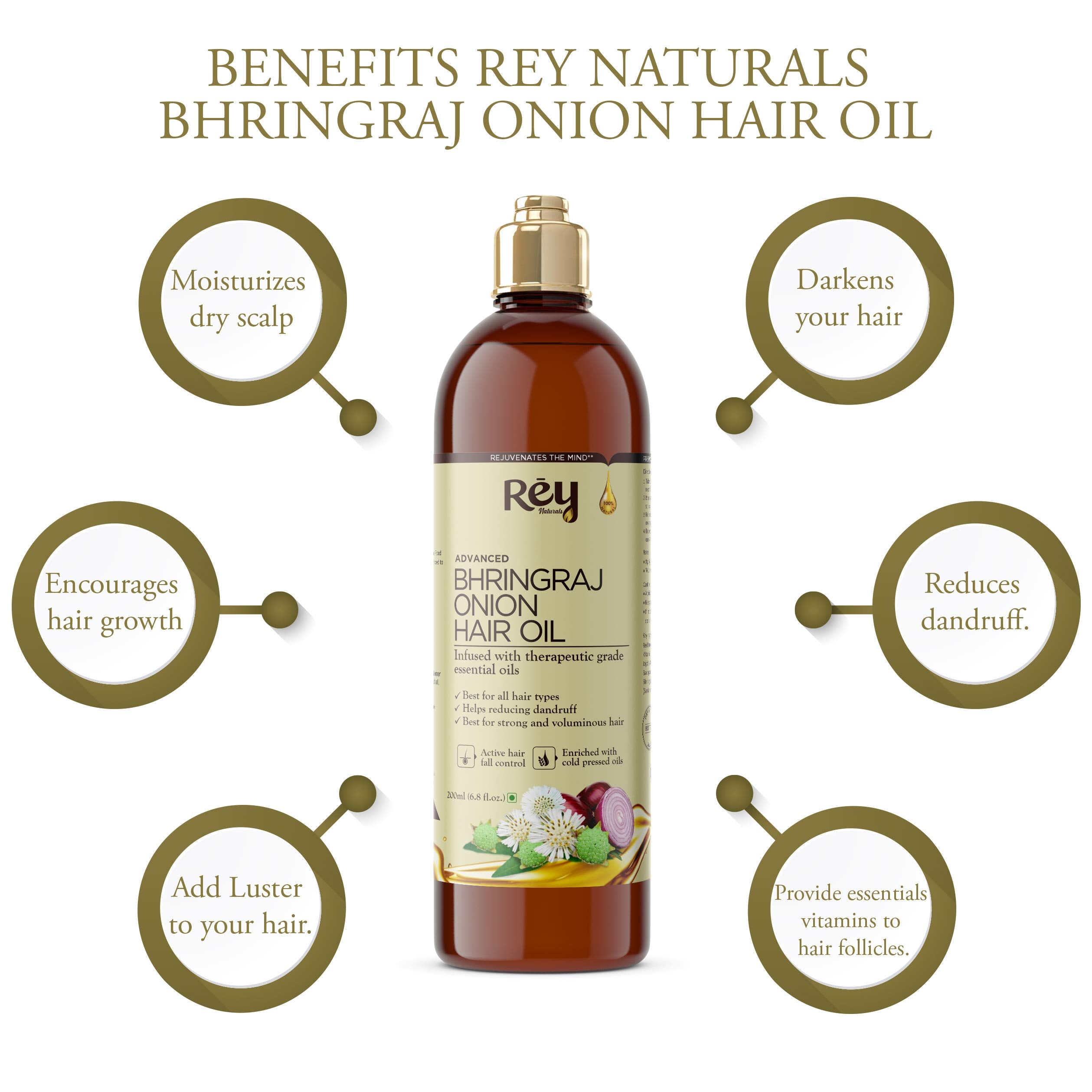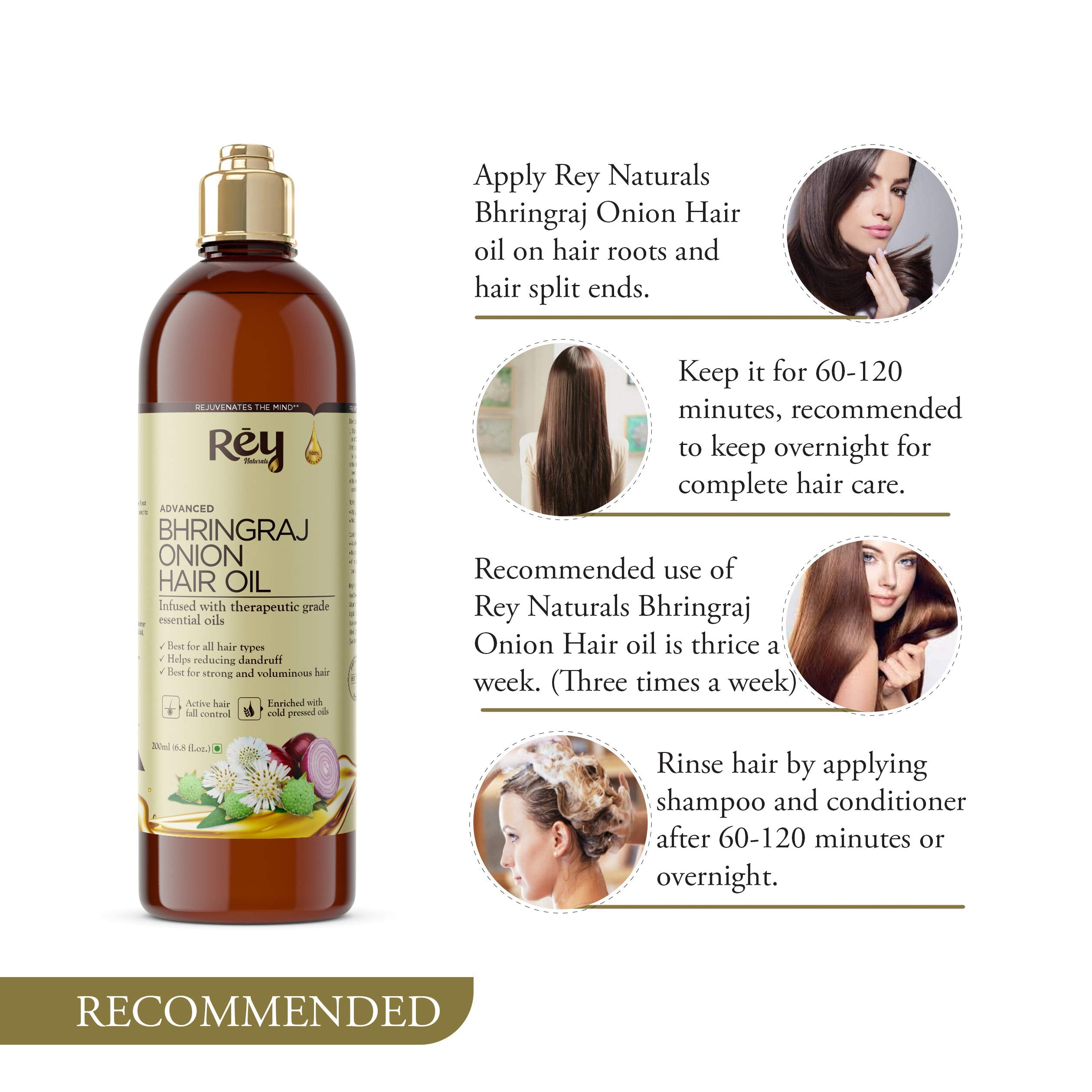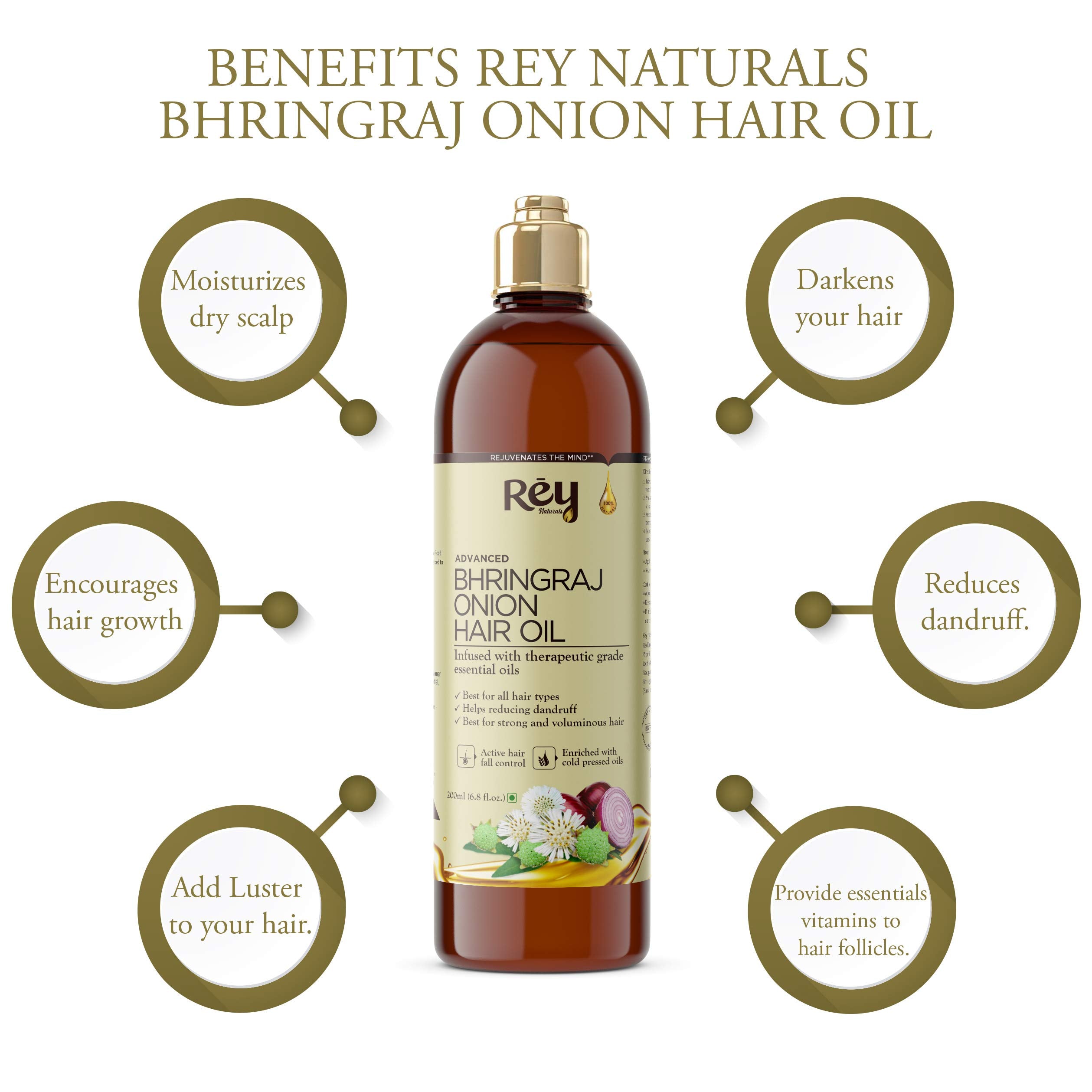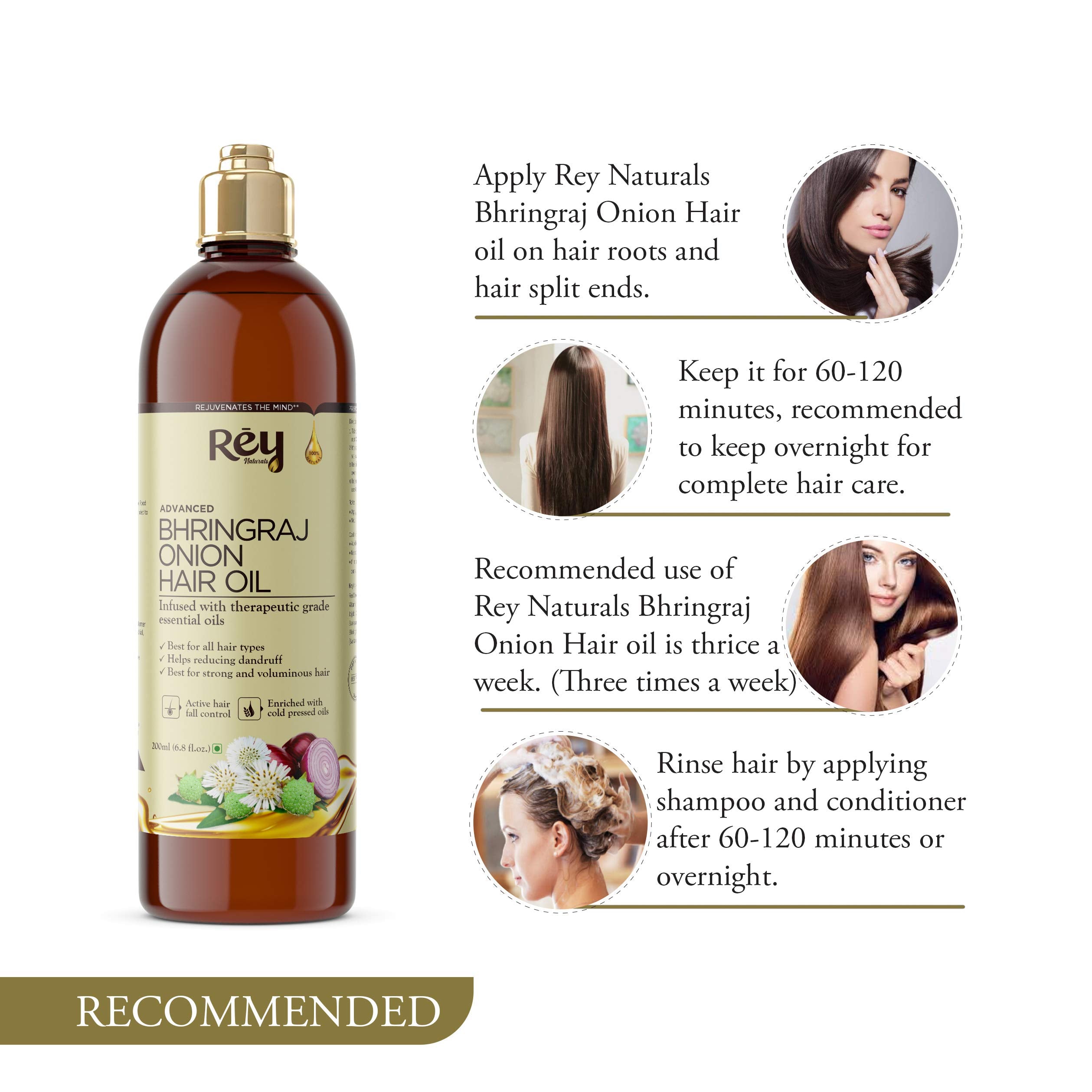 Rey Naturals Bhringraj oil with Onion extract For Hair Strengthening, Anti-hair Fall, Split-ends - 200 ml
Regular price

₹ 499/-

Sale price

₹ 366/-

Unit price

per
CLICK HERE FOR COD
About the product :
USES : Prevents Greying of hair , Reduces Dandruff & moisturizes Dry Scalp , Reduces hairfall
BOOSTS HAIR GROWTH : Rey Naturals Bhringraj Onion hair oil enhance blood circulation to the scalp & ensures better nourishment for your hair follicles , resulting in healthy hair growth
Unique combination of onion oil & bhringraj extract gives deep nourishment to hair follicles by reducing dandruff & grey hair. Also , it moisturizes dry scalp.
Bhringaraj has a Keshya effect, meaning that it directly nourishes & improves the hair. The base oil is onion which is very good at hair follicle nourishment & help restore lost nutrients to your scalp
Rey Naturals Bhringraj Onion Hair oil extracts rejuvenates hair keeping the hair lustrous, dark and healthy. It also helps to nurture and condition hair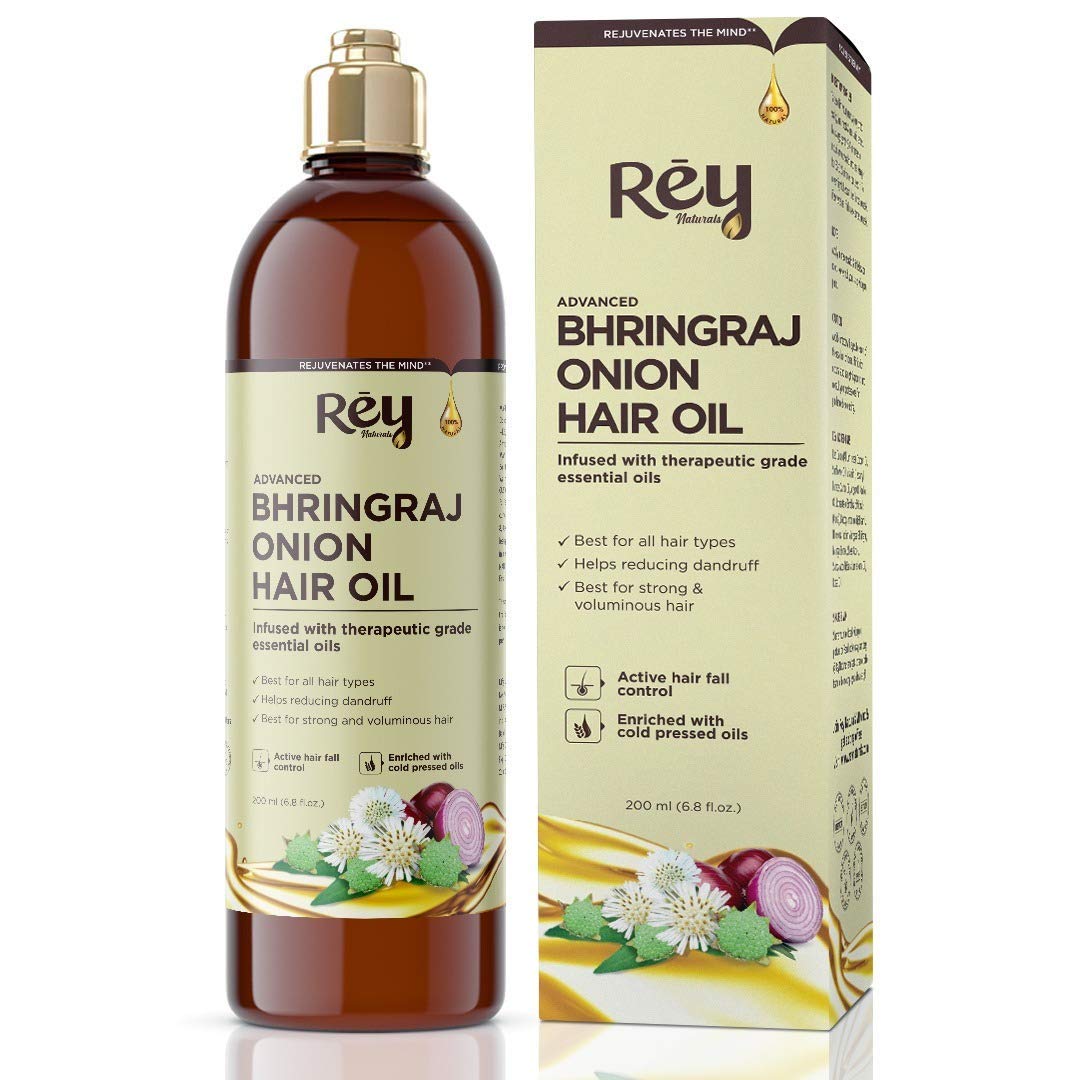 Rey Naturals Bhringraj oil with Onion extract For Hair Strengthening, Anti-hair Fall, Split-ends - 200 ml
Excellent Product
I liked the purity of the castor oil very much. Never ever experienced such pure product. It's a great product. I would seriously recommend it to everyone who is looking for pure castor oil. Thank You Rey Naturals !!
Good
Waiting for results using regularly
Very useful for the skin application as a moisturiser
---
Product Description
We believe that everyone deserves a life of abundance and wellness. As a Rey Naturals member, you'll find something little more than a new lifestyle, a holistic living experience. The oils are stored in a temperature sensitive room with minimal light exposure to ensure the therapeutic properties are not compromised. We assure that each oil is free of carriers, dyes, additives, adulterants, fillers, synthetics &pesticides. Mindfully crafted to serve with humble intentions. Continuing with innovation, Rey naturals continues to expand its line with new and pure therapeutic essential oils and purposely-built products to satisfy the most experienced consumer and to help introduce new consumers to the benefits of essential oils. The company strives to provide products that improve the lives of people worldwide.
bhringraj onion hair oil
Rey Naturals
We, Rey Naturals are Ahmedabad based brand inspired to bring revolution in Hair Care. We oath to develop a self-care trend with all primitive ingredients. We believe to be a customer when it comes to developing the product; thinking like a customer gives us a clear requirement of our customer.
Our natural and cruelty-free products are uniquely formulated with safe and effective ingredients to care for your hair with the love and care which it truly deserves.
Rey Naturals Bhringraj Onion Hair Oil
Nourishes Hair Completely
Hair care routine is very essential in daily pollution, direct sun rays and excess stress. Hair gets weak and start losing grip from scalp which results into hair fall. Rey Naturals has studied this huge number of issues raised by people hence a new combination in form of Bhringraj Onion Hair oil has been introduced. Two legendary ingredients for hair fall issues has been combined to control hair fall and makes hair stronger, softer and shinier.
Controls hair fall

Strengthens hair follicles

Hydrates dry scalp

Add shine and luster to hair

Suitable for all hair types
Combination of Legendary Ingredients

Bhringraj and Onion both are renowned for hair issues. Both are used since old age and has successfully created positive impact over people's trust and the results with this blend are simply incredible.

Hair nourishment

Rey Naturals Bhringraj Onion Hair oil is complete hair nourishment mixture. All natural ingredients are effective with their great importance. This mixture of oils provides complete vitamins and protein to scalp and hair. Resulting into soft and shiny hair.

Suitable for all hair type

As it covers all hair issues and have zero side effect can be benefial to all hair types. Hair routine is to be form for better results for dry and weak hair

Controls dandruff and gray hair

Rey Naturals Bhringraj Onion oil is best for dandruff; regular use can help to control dandruff issues. Hair affected from pollution and direct sun rays lose vitamins and nutrients; Bhringraj Onion hair oil provides this essential vitamins and nutrients
bhringraj hair oil
Composed to deliver one solution for hair fall
Rey Naturals Bhringraj Onion Hair oil is developed to give single solution for hair fall. Special mixture of oils is formed to solve major hair fall issues. As this blend of oils has ability to cover other issues and thus it can deliver a bunch of solution in a 200ml bottle
Controls hair fall

Strengthens hair follicles

Hydrates dry scalp

Add shine and luster to hair

Suitable for all hair types
---
Detailed Specifications:
| | |
| --- | --- |
| Package Dimensions : | 4.8 x 5 x 17.4 cm; 220 Grams |
| Size : | 200 ml (Pack of 1) |
| Manufacturer : | BO International; |
| Marketed by : | Merhaki Foods & Nutrition Pvt. Ltd. |
| Colour : | Transperent |
| Weight : | 200Grams |
| Brand : | Rey Naturals |
| Model Number : | HOIL_BHRG_200_ML |
| Item volume : | 200 cm3 |
| Item Part Number : | HOIL_BHRG_200_ML |
| Item Length : | 15 cm |
| Item Height : | 8 cm |
| Hair Type : | All |
| Batteries Required : | false |
| Country Of Origin : | India |