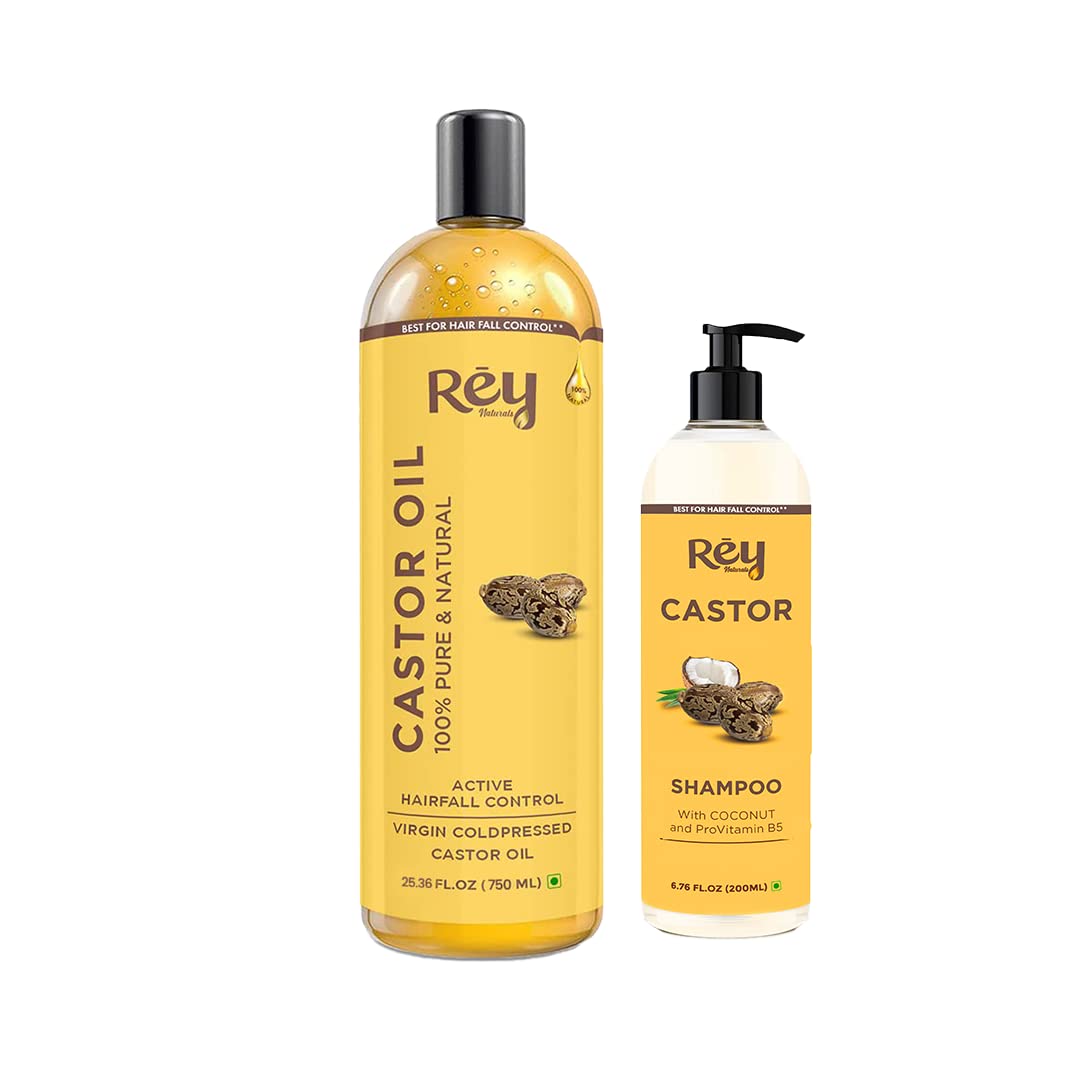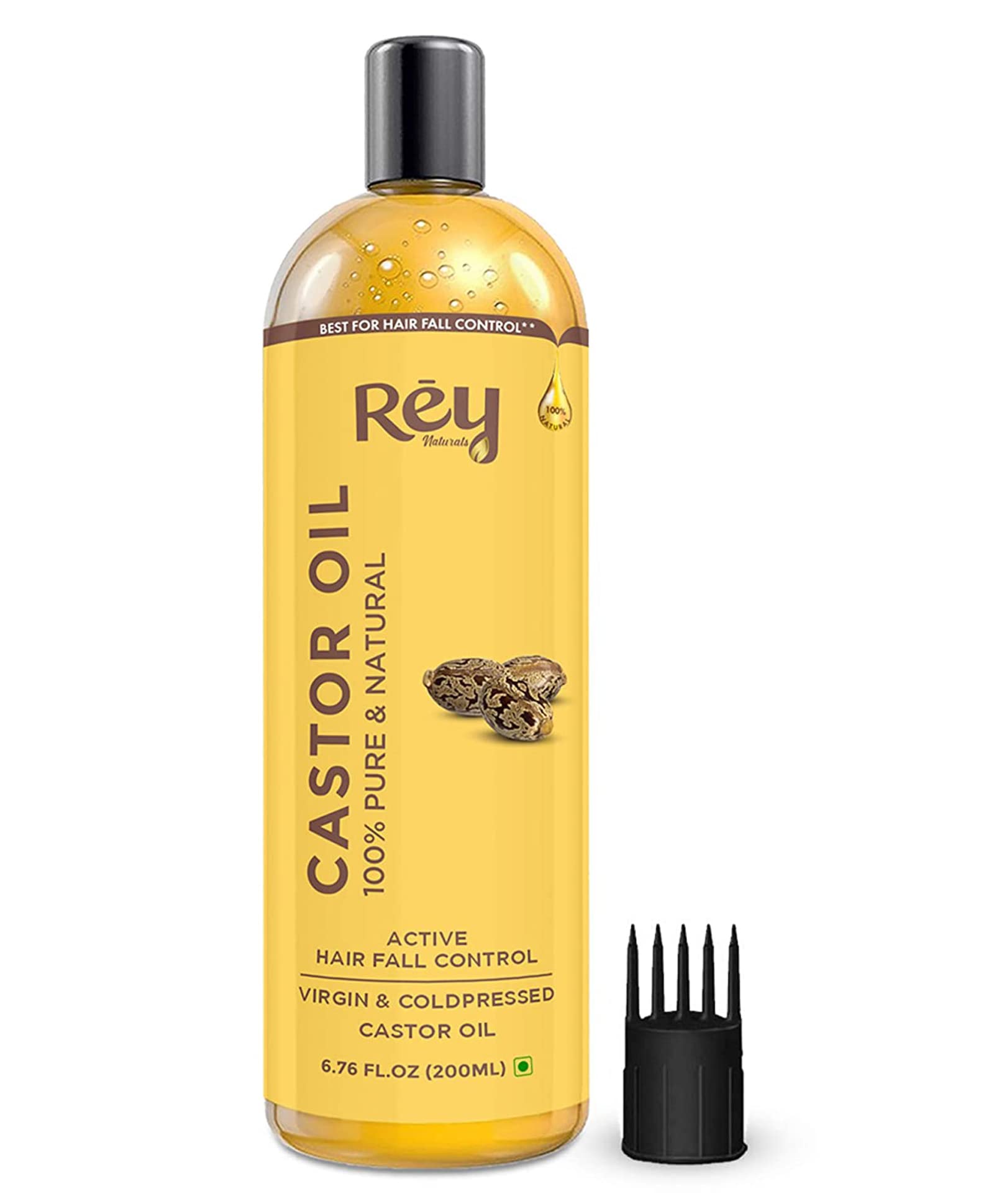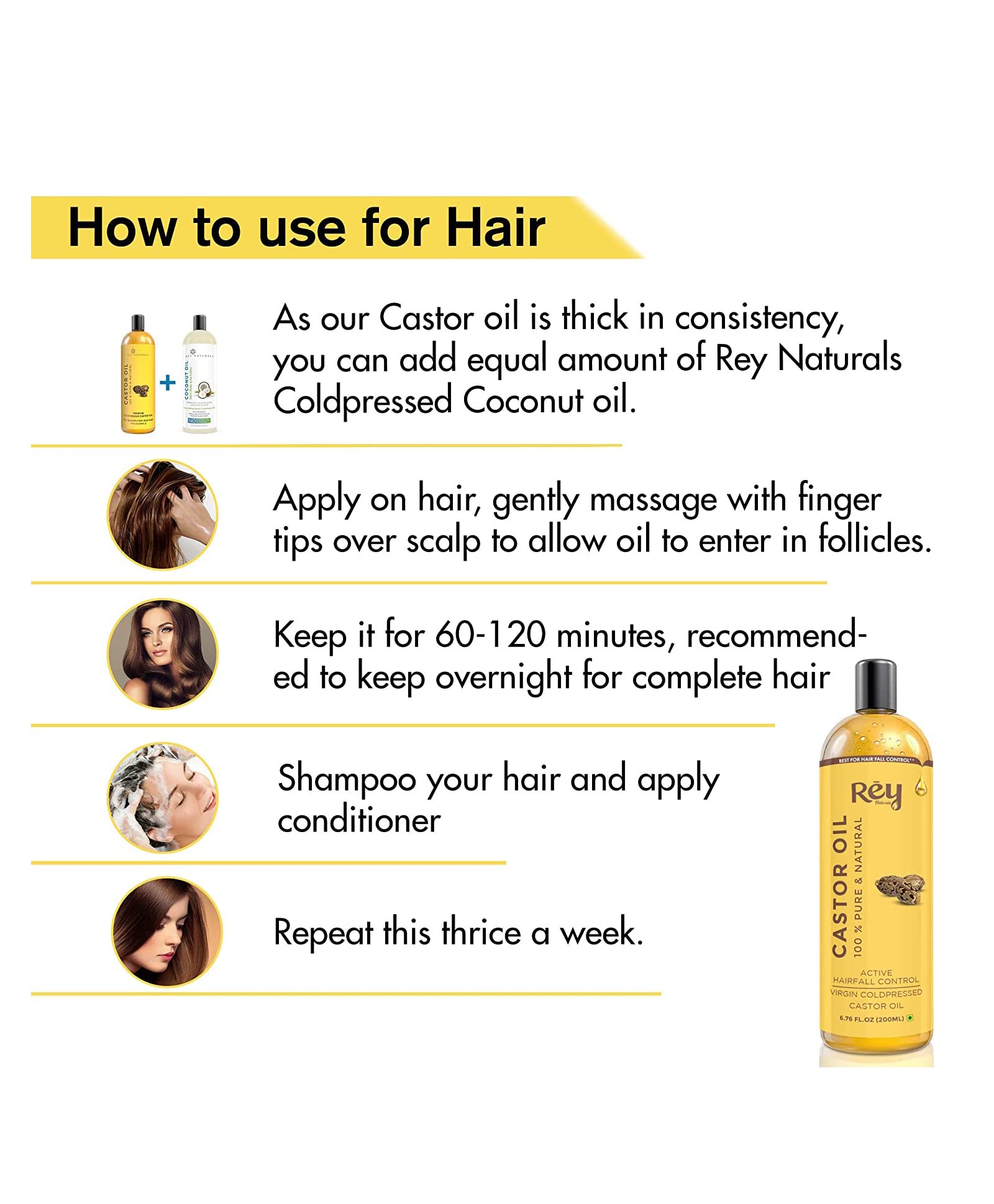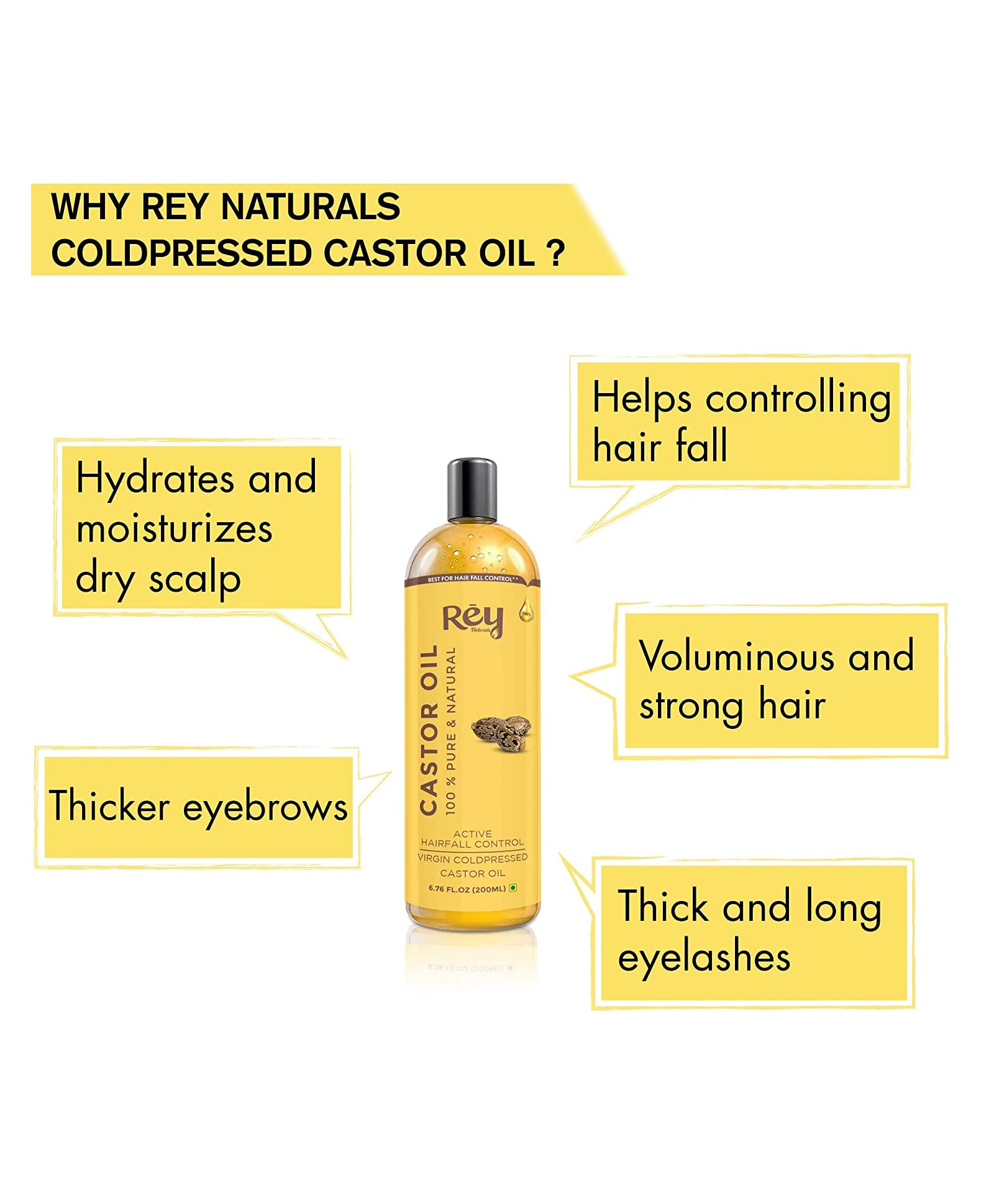 Rey Naturals Castor Oil Hair Growth, Eyelash and Shampoo Set - Promote Thick, Long Hair and Lush Lashes
Regular price

₹ 899/-

Sale price

₹ 799/-

Unit price

per
CLICK HERE FOR COD
About the product :
✅FOR HAIR: Castor Oil (Arandi Oil) has ability to control hair fall, strengthen thin hair, and promote hair growth. It replenishes the scalp's natural oils and revitalizes the hair. The antioxidants in Rey Naturals castor oil support natural keratin, making the hair stronger and smoother. The high concentration of vitamin E in castor oil helps to repair split ends. Applying castor oil regularly will promote hair growth. Castor oil is an excellent hair moisturizer.
✅FOR SKIN: Rey Naturals castor oil moisturizes the skin and keeps it hydrated. The antioxidant and antibacterial properties of castor oil protect the skin from free radical damages and prevent acne and pimple causing bacteria. Benefits of castor oil for skin are amazing for reducing wrinkles. The anti-aging properties of castor oil firm the skin
INFUSED WITH FRESHNESS OF NATURE: The Rey Naturals hair shampoo comes power packed with the goodness of aloe vera extract, coconut oil & cold pressed castor oil and provitamin B5.
COCONUT FOR NOURISHMENT: The wonderful concoction of several freshly produced ingredients enables the nourishment of roots in an effective manner. It also supports scalp nourishment to provide your hair with the loving care it deserves.
✅FOR LIPS, EYELASHES & EYEBROWS: Castor oil helps your eyelashes and eyebrows to grow long and lush. It soothes dry, chapped lips and plump up lips making it soft, supple and beautiful
✅DRY HANDS AND CRACKED FEET: If your hands are dry or your heels are cracked, massage them with castor oil for a softening effect. You may keep the oil overnight for soothing cracked feet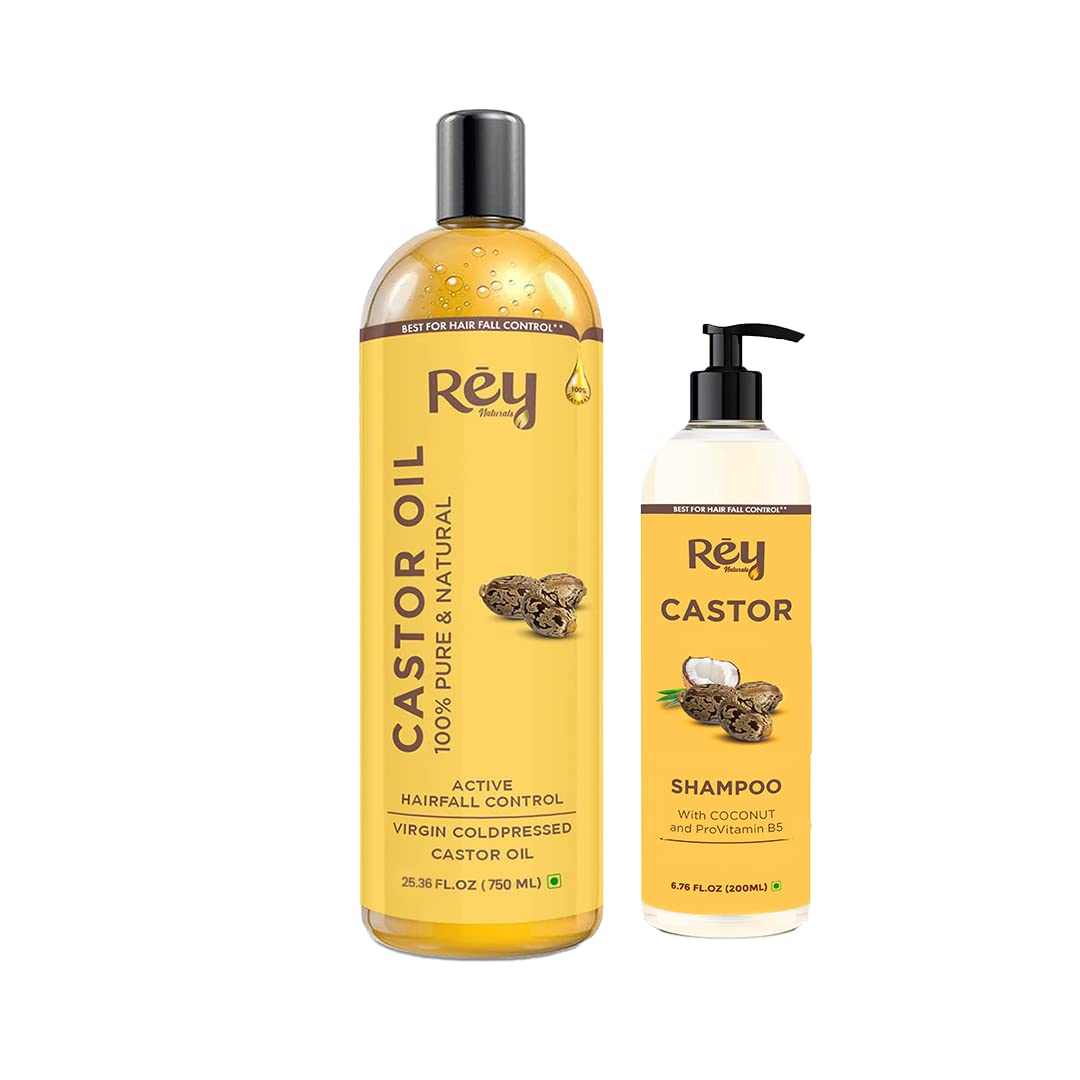 Rey Naturals Castor Oil Hair Growth, Eyelash and Shampoo Set - Promote Thick, Long Hair and Lush Lashes
Excellent Product
I liked the purity of the castor oil very much. Never ever experienced such pure product. It's a great product. I would seriously recommend it to everyone who is looking for pure castor oil. Thank You Rey Naturals !!
Good
Waiting for results using regularly
Very useful for the skin application as a moisturiser
Product Description :
Get the long, thick hair and lush lashes you've always wanted with the Rey Naturals Castor Oil Hair Growth, Eyelash and Shampoo Set. Our 100% pure castor oil is cold-pressed and hexane-free, making it safe for use on hair, eyelashes, and eyebrows. The oil is rich in fatty acids, vitamins, and minerals that nourish hair and promote growth. The included castor shampoo is specially formulated to cleanse and strengthen hair, while also maximizing the benefits of the castor oil treatment. Achieve the hair and lashes of your dreams with Rey Naturals Castor Oil Hair Growth, Eyelash and Shampoo Set.
---
Detailed Specifications:
| | |
| --- | --- |
| Package Dimensions : | 310 x 86.4 x 86.4 cm; 500 Grams |
| Size : | 1 ml (Pack of 2) |
| Marketed by : | Merhaki Foods & Nutrition Pvt. Ltd. |
| Colour : | Yellow |
| Brand : | Rey Naturals |
| Item Part Number : | 3000000067727 |
| Hair Type : | All |
| Country Of Origin : | India |