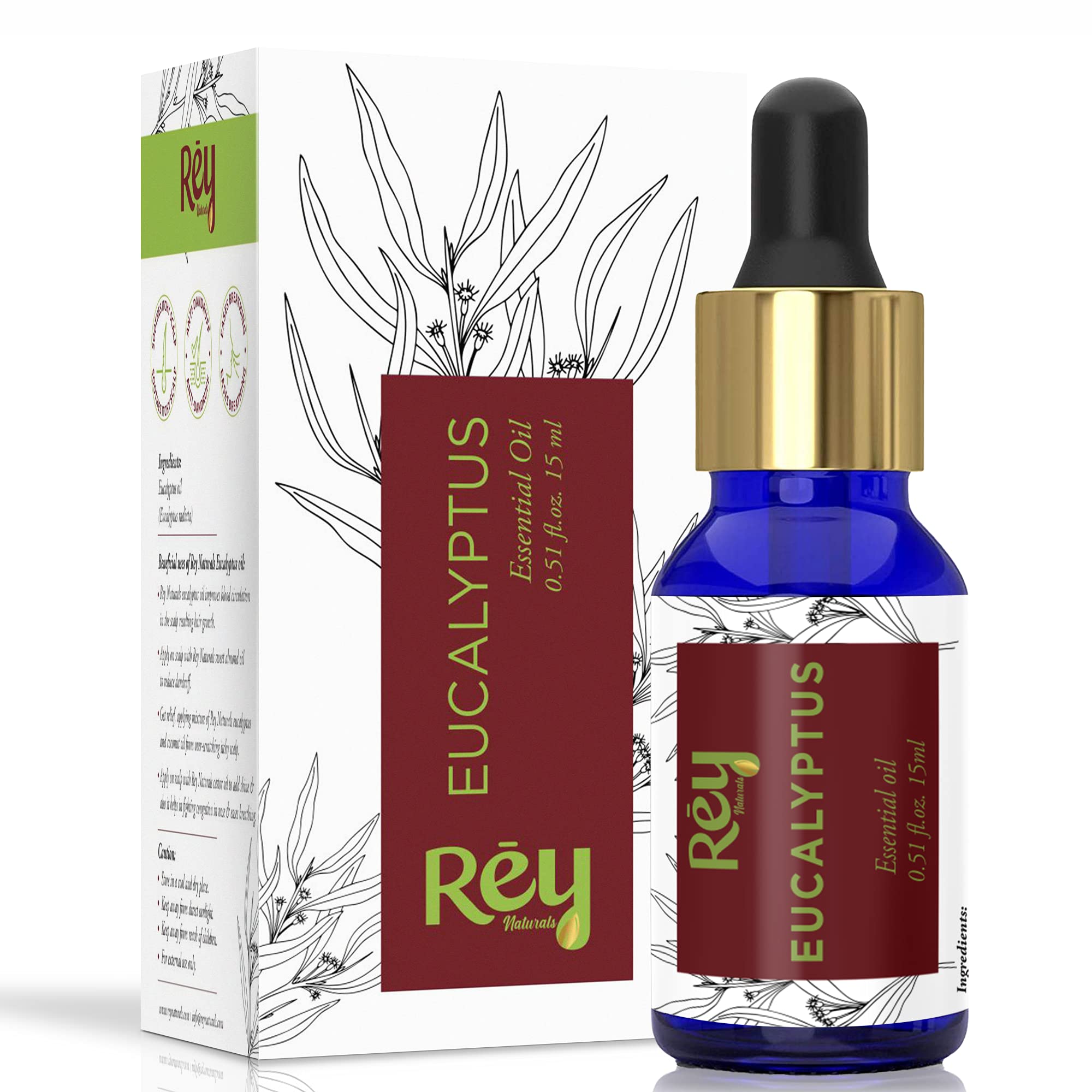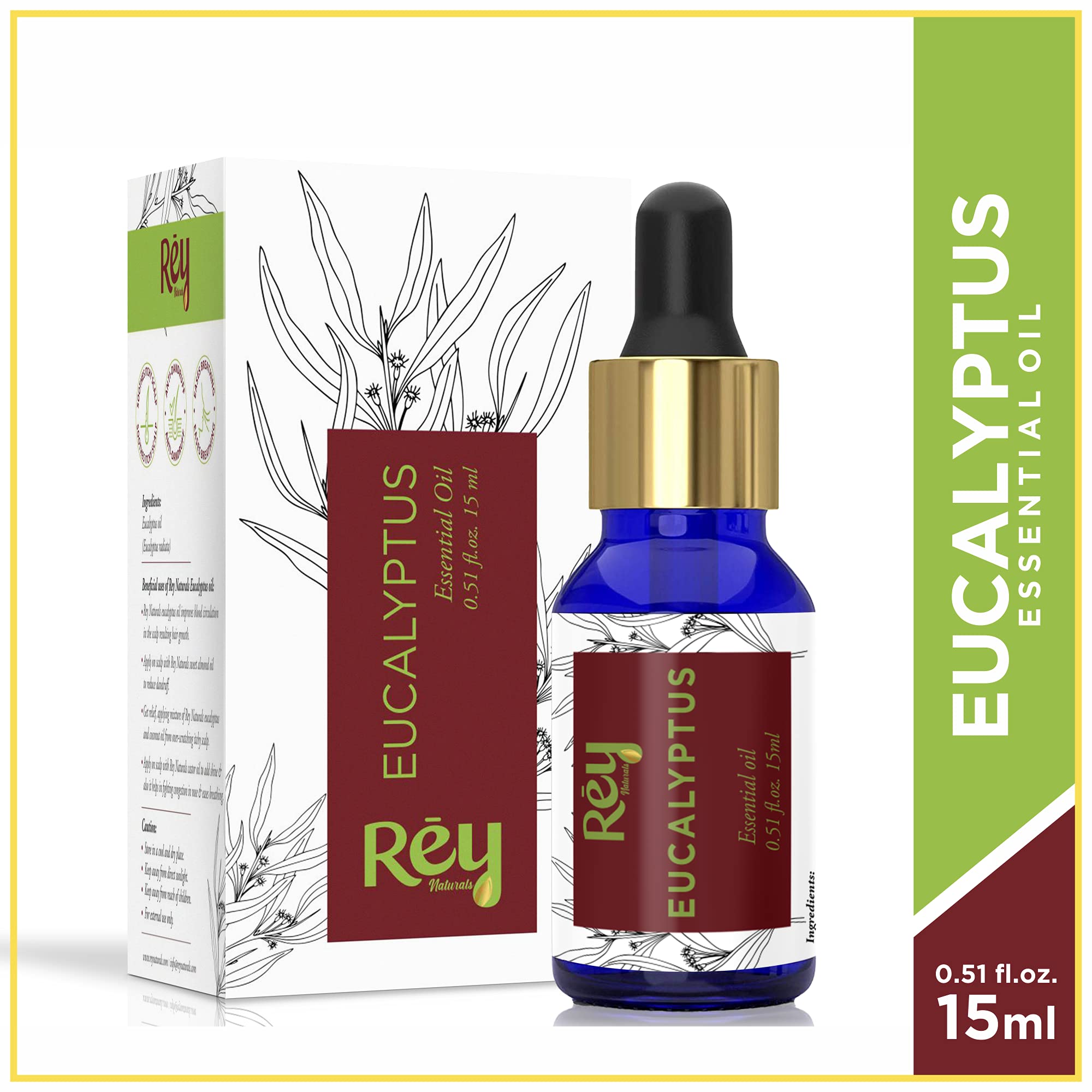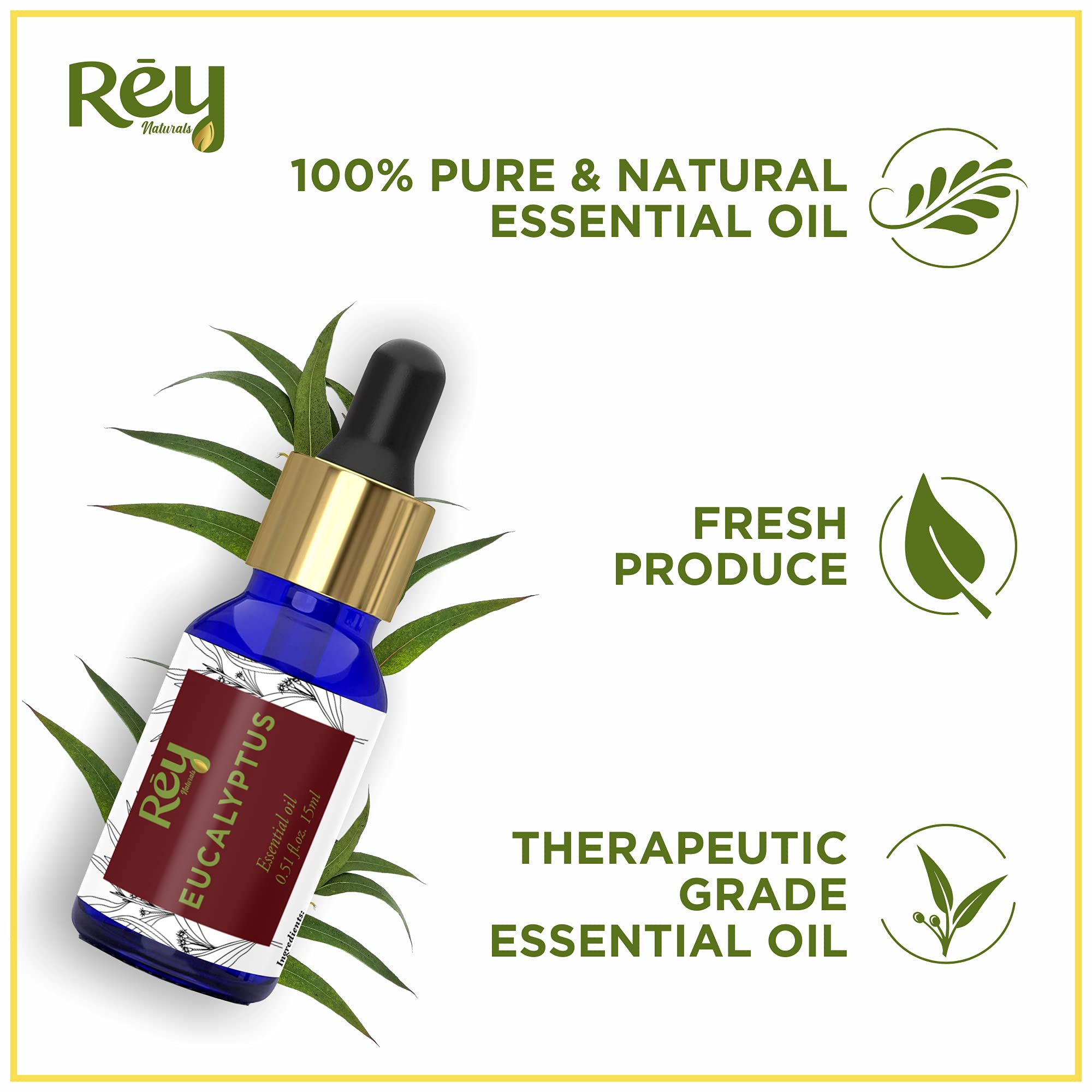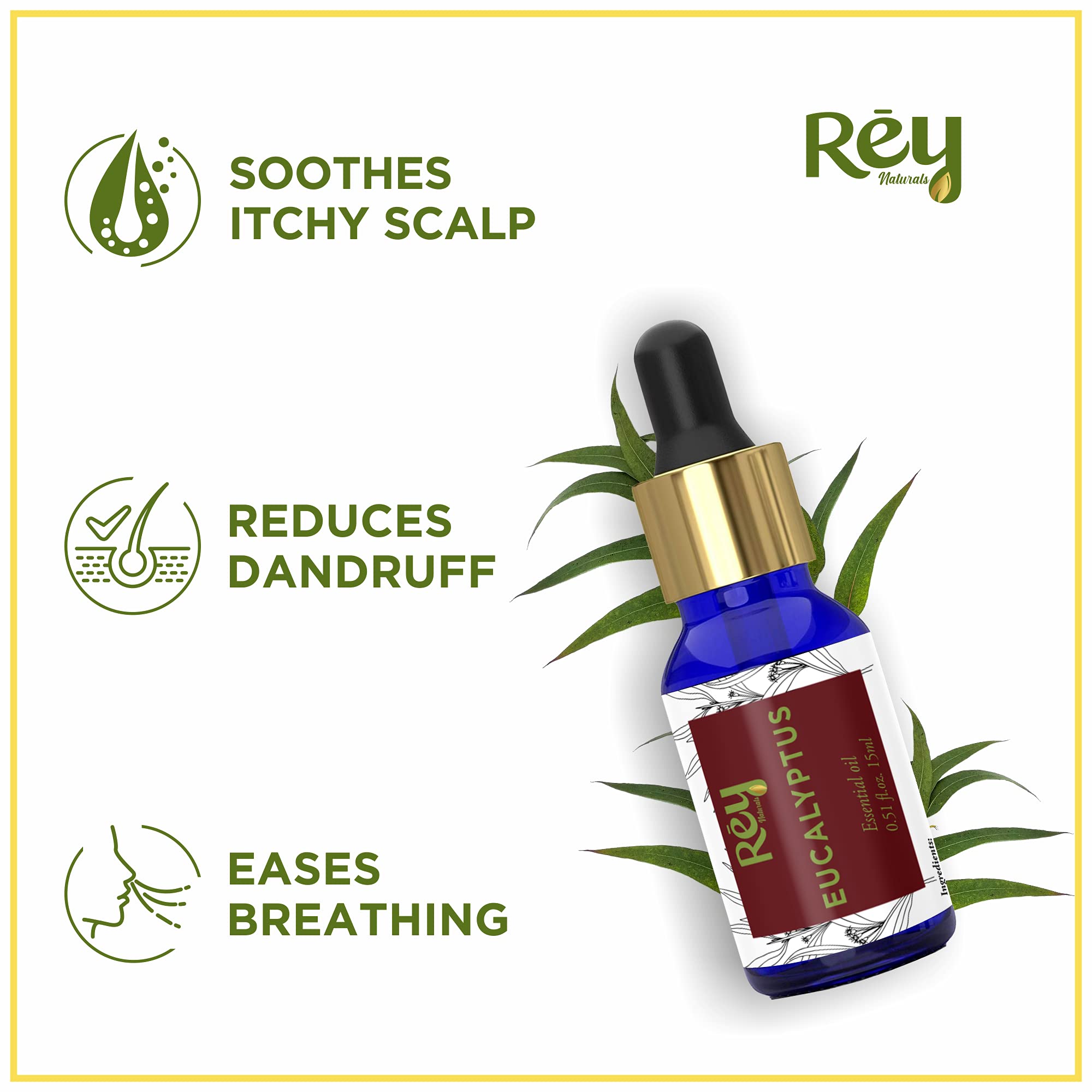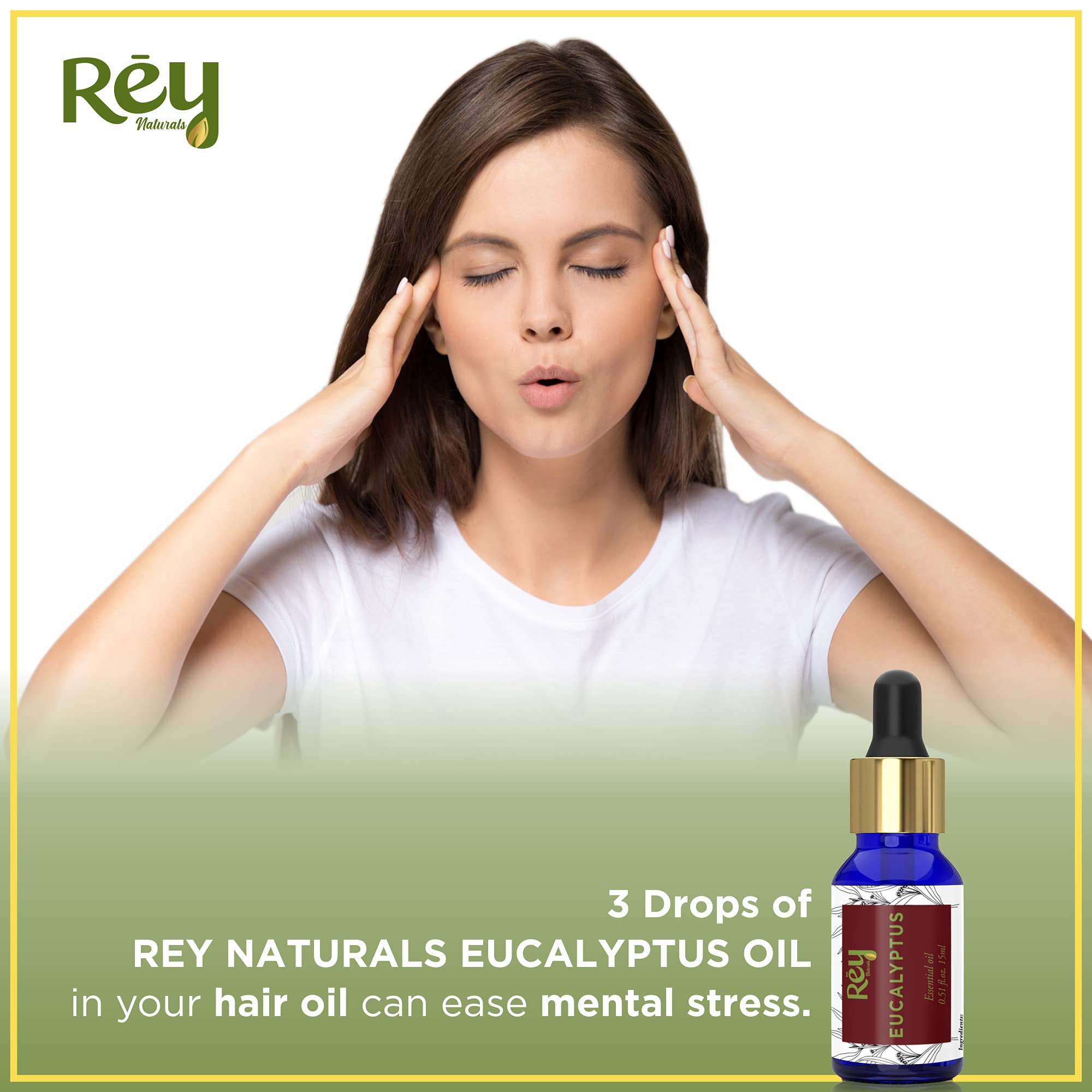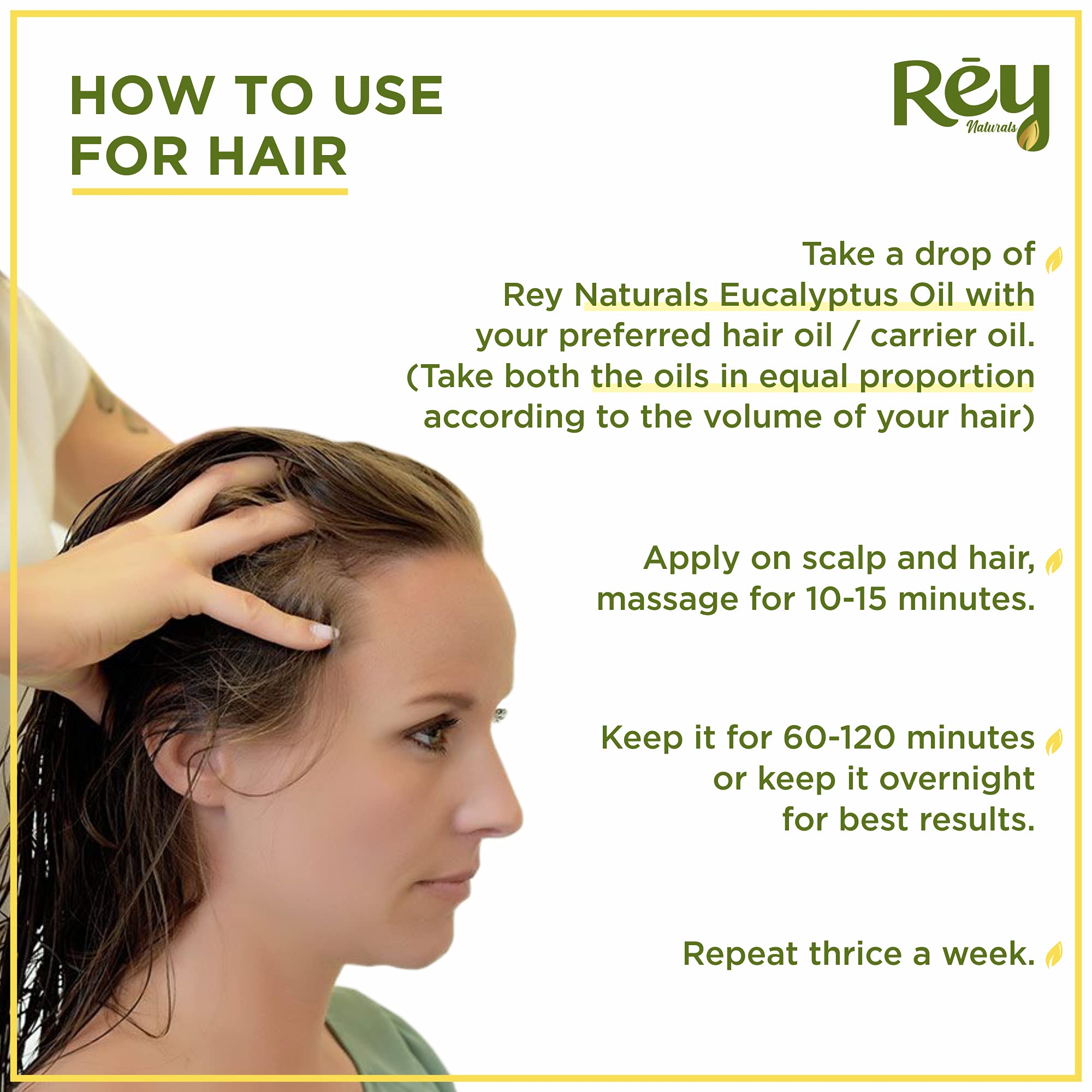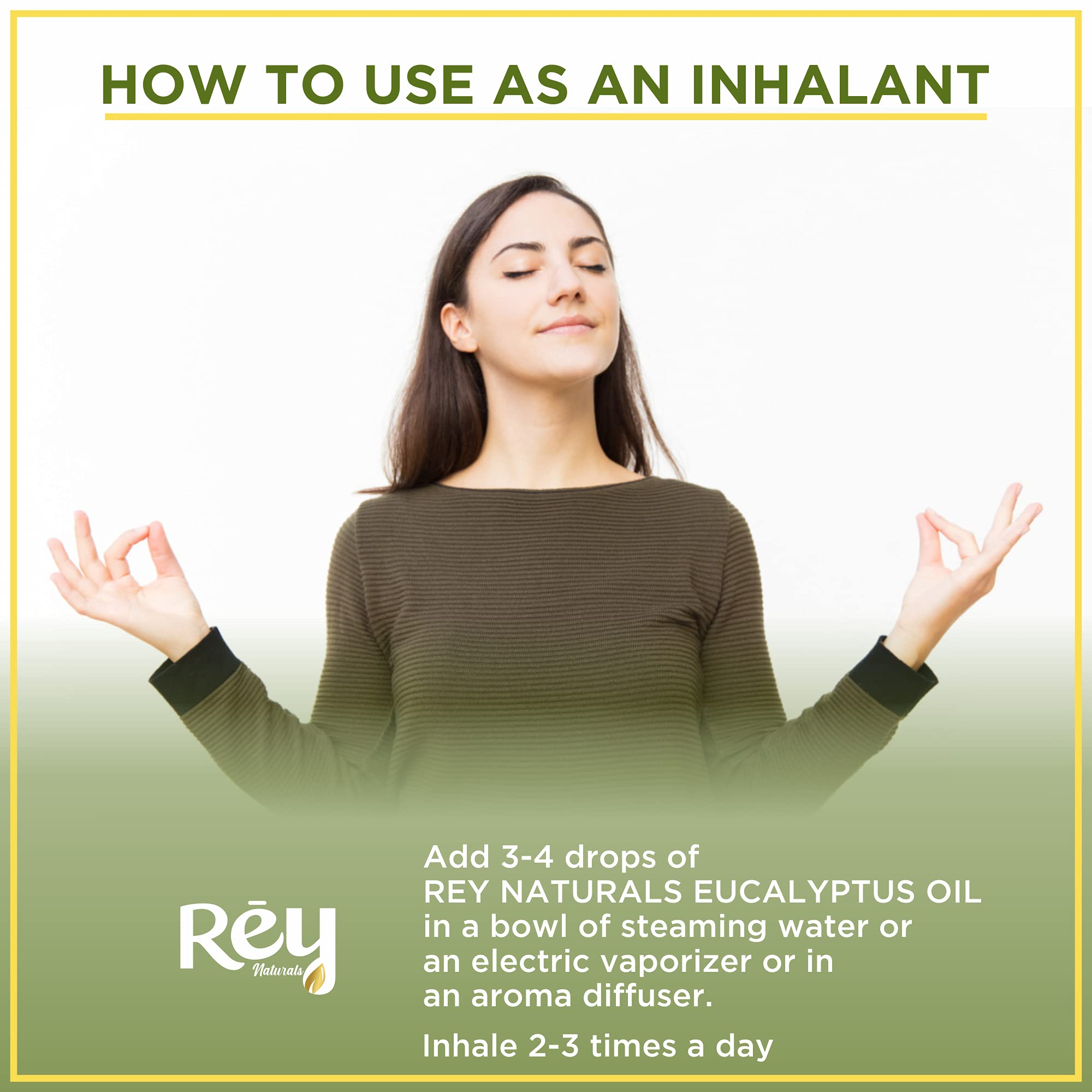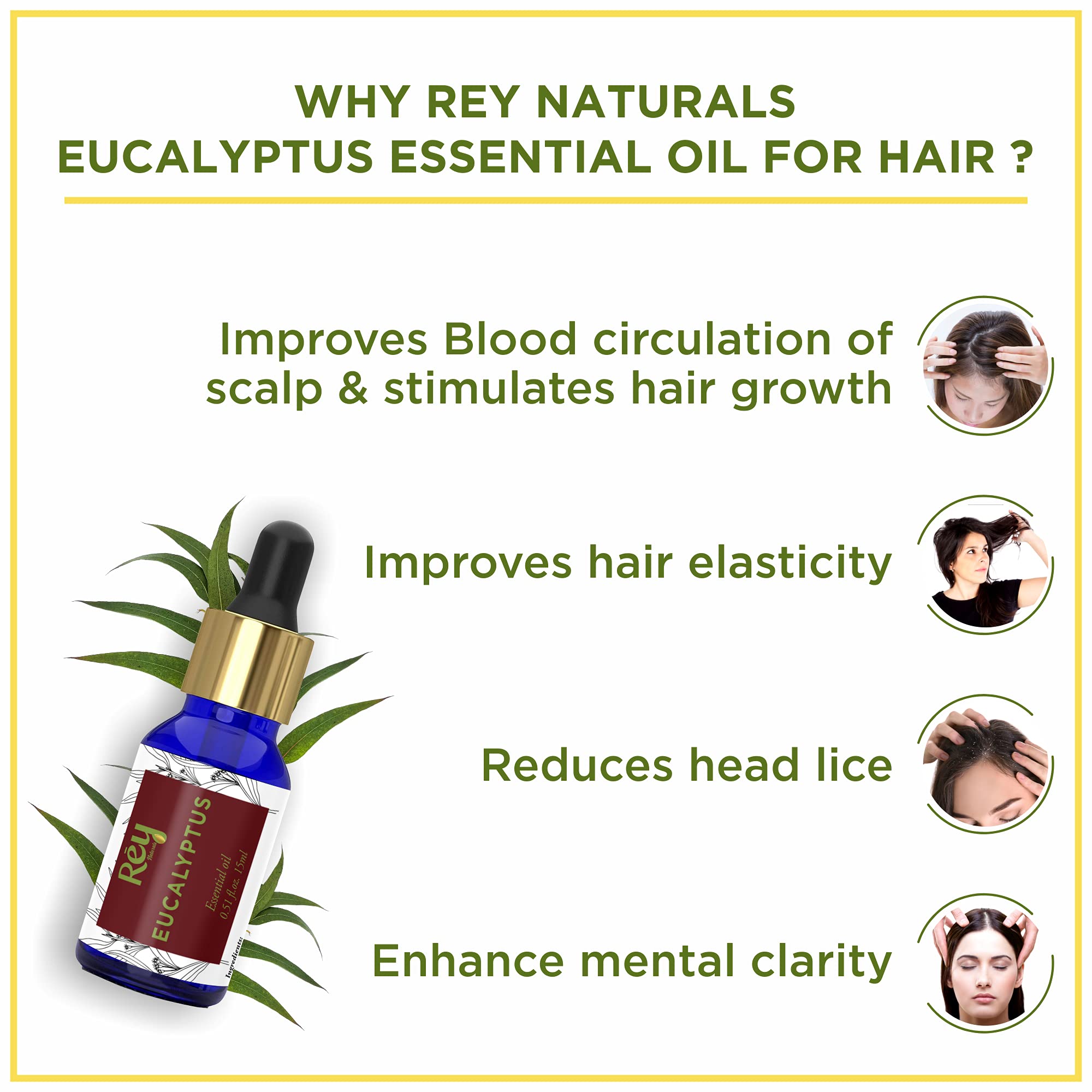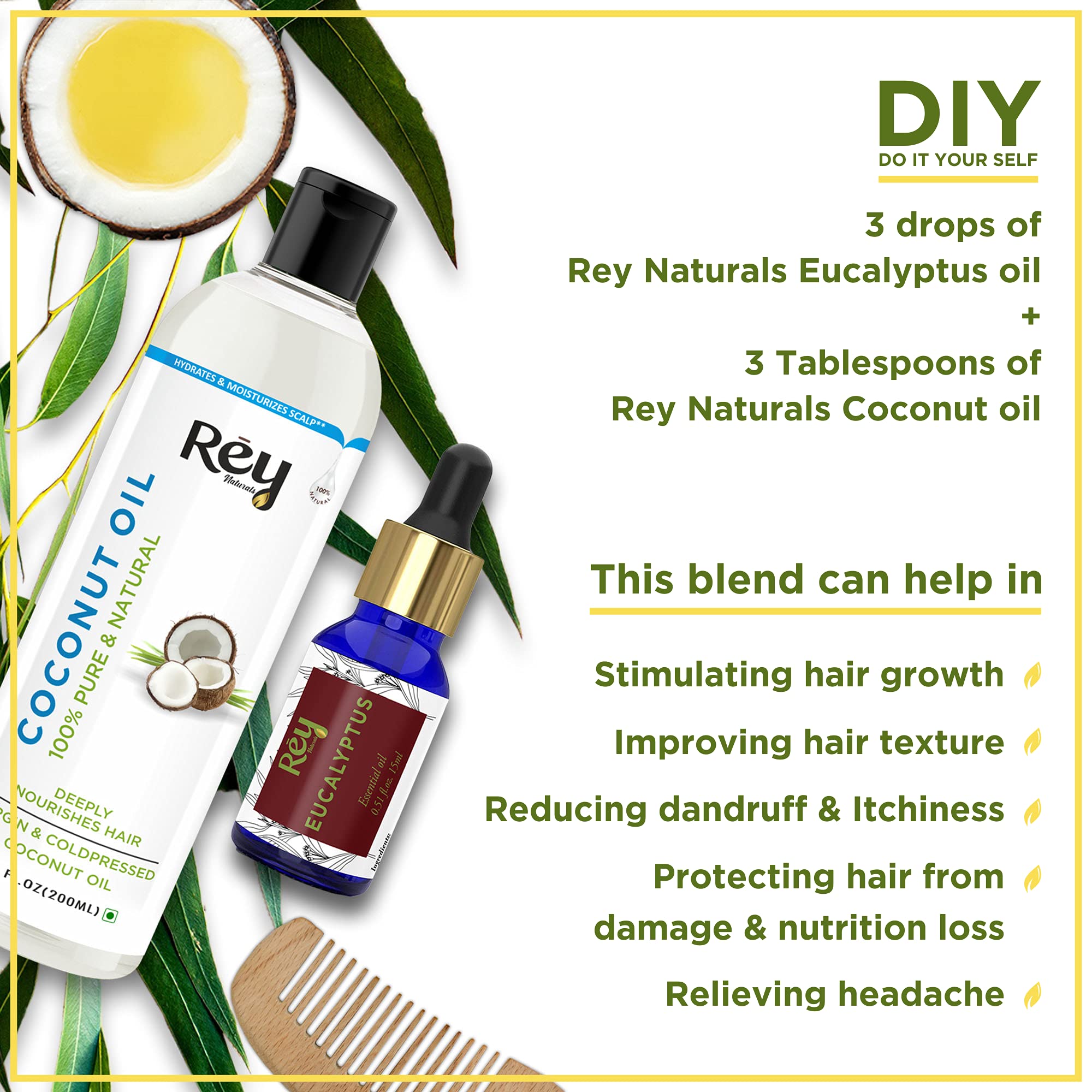 Rey Naturals Eucalyptus Oil - 100% Natural Essential Oil for Soothing Scalp, Reduces Dandruff, and Aromatherapy - 15ml
Regular price

₹ 300/-

Sale price

₹ 249/-

Unit price

per
CLICK HERE FOR COD
About the product :
Soothes Itchy Scalp: Experience relief from scalp itchiness with the soothing properties of pure eucalyptus oil.
Reduces Dandruff: Combat dandruff and promote a healthier scalp with the natural antifungal properties of eucalyptus oil.
Eases Breathing: Inhale the invigorating scent of eucalyptus oil to clear your airways and promote easier breathing.
Eases Mental Stress: Relax and unwind with the calming aroma of eucalyptus oil, known for its stress-relieving benefits.
100% Pure and Natural: Our eucalyptus oil is extracted from premium quality eucalyptus leaves, ensuring its purity and effectiveness.
Use for Aromatherapy: Enjoy the benefits of aromatherapy by using eucalyptus oil in diffusers, massages, or for home fragrance.
Essential Oil for Hair Growth: Stimulate hair growth and maintain a healthy scalp by incorporating eucalyptus oil into your hair care routine.
Enhance Home Fragrance: Add a few drops of eucalyptus oil to your diffuser or potpourri to create a refreshing and invigorating atmosphere.
Versatile Essential Oil: Eucalyptus oil can be used on the skin, muscles, and joints for a soothing and revitalizing experience.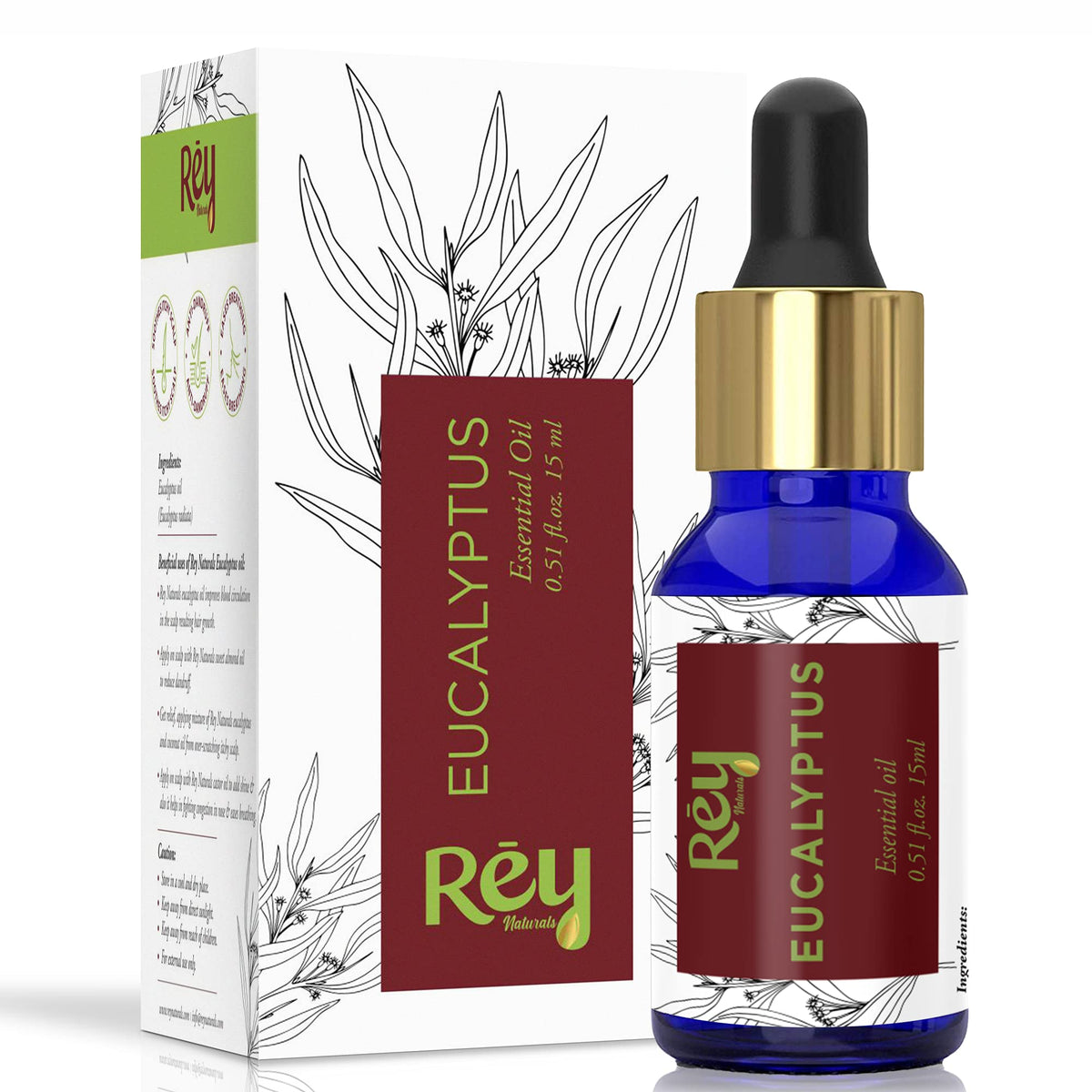 Rey Naturals Eucalyptus Oil - 100% Natural Essential Oil for Soothing Scalp, Reduces Dandruff, and Aromatherapy - 15ml
I am always happy with reys product
Rosemary essential oil, 15ml
Rosemary essential oil
I am using it for the first time. I tried everything but nothing worked for my hair fall, but this oil just amazed me. I ca see the difference in my hairs in 2-3 application only. hairfall is slowly slowly decreasing as we all know that this will take time. Have patience and get the best results out of it.
Product Description :
Eucalyptus Essential Oil is extracted from the leaves and twigs of the Eucalyptus plant through steam distillation extraction method. The oil is widely popular all across the globe for extensive applications in aromatherapy and personal care. Eucalyptus essential oil has been renowned among the persons for skin cleansing to attain a clean, clear and wrinkle-free skin. it is also perfect choice for use in aroma diffusers to spread a calming, relaxing and clarifying aroma within the interiors.
---
Detailed Specifications:
| | |
| --- | --- |
| Package Dimensions : | 5.2 x 5.2 x 9.4 cm; 70 Grams |
| Size : | 15 ml (Pack of 1) |
| Manufacturer : | Sapnish enterprise - Plot no.110/6, Kerala GIDC,Bavla, Bagodara, Gujarat 382220; |
| Marketed by : | Merhaki Foods & Nutrition Pvt. Ltd. |
| Colour : | Transperent |
| Weight : | 70Grams |
| Brand : | Rey Naturals |
| Model Number : | EOIL_ECLP_15_ML |
| Item volume : | 15 cm3 |
| Item Part Number : | EOIL_ECLP_15_ML |
| Item Length : | 6 cm |
| Item Height : | 8 cm |
| Batteries Required : | false |
| Active Ingredients : | eucalyptus,extracted from |
| Country Of Origin : | India |